Liyitec Inc. announces industry leading glass only 55" PCAP with up to 35 touch points
Press release
Liyitec Inc., Taiwan's leading touch panel manufacturer, makes projected capacitive touch panel (PCAP) and resistive touch panel since 1988. This company is proudly announcing its new 55" PCAP solution at Computex Taipei 2015 (Booth K0925a). Liyitec Inc. employees pure glass solution which enables superior product performance and reliability. This is what makes Liyitec Inc. unique from conventional touch panel makers, who usually provide film based products with GF or GFF structures.
Liyitec Inc. produces PCAP and resistive touch panel with product size ranging from 3" to 55". Liytec Inc. has dedicated in producing large size touch panel and has gained remarkable results of growing customer demand. The newly announced 55" PCAP product features width slim structure (i.e. 1.6 mm thickness) and can support up to 35 points of touch simultaneously. This advanced product has been highly requested from customers in industries that require quality and durability, such as gaming, outdoor application, education, military….etc.
In addition to PCAP solution, Liyitec Inc. has never stopped R&D efforts for resistive touch panel. Besides traditional 4 wire and 5 wire resistive touch, Liyitec Inc. offers bezel-less touch structure and multi-touch function. Currently, Liyitec Inc. ships resistive touch panel from 3" to 26".
Other than conventional black and white lens color, Liyitec Inc. enhances its customers' room for industrial design by offering a variety of choice in lens color. For example, baby blue in medical related application; metallic gold or red for high end consumer product lines; metallic black or white for outdoor kiosk or advertisement use.
Liyitec Inc. furnishes lamination services of touch panel and display module. Besides air bonding, Liyitec Inc. offers direct bonding up to 55". This service is highly regarded by Liyitec Inc.'s customers, especially for those in large screen segments.
With all its facilities 100% in Taiwan, Liyitec Inc. is able to maintain its superior quality. Moreover, all Liyitec's factories and offices including R&D and management departments are located within 5 minutes walking distance, which has enhanced Liytec Inc.'s agility and flexibility.
Liyitec Inc. plans to launch 85" PCAP product by the end of 2015. There are many drawbacks in infrared touch technology such as light interference, dust accumulation, bezel…..etc. Also, film based touch panel can't be exposed to outdoor environment due to migration issue. Liyitec Inc. is aiming to replace these inferior technologies with more advanced glass only PCAP solution, especially in super-size segments.
For more information, please visit the company website: http://www.liyitec.com/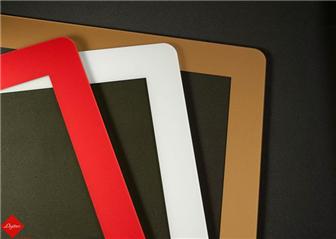 Customizable lens color
Photo: Company