GIGABYTE launches an intelligent IoT gateway solution at Computex to simplify deployment of connected, secured and managed applications
Press release
GIGABYTE Technology, a leading IT product manufacturer will showcase a new IoT solution at Computex: a BRIX mini-PC coupled with the Intel Gateway Solution for Internet of Things (IoT). This solution features a pre-installed software and hardware platform containing a Wind River Linux 5.01, and security and management features. GIGABYTE expects to simplify the deployment of IoT products for its customers as the solution allows secure data aggregation, filtering, and analysis from edge devices to the cloud through Ethernet or WiFi connections.
As an associate member of the Intel IoT Solutions Alliance, GIGABYTE understands that customers require readily-available solutions to tackle the complexity of IoT infrastructure. That is why GIGABYTE has worked with Intel to develop this compact size system integrated with the Intel Gateway Solution as an intelligent internet gateway product. Intel and GIGABYTE have been working together to accelerate the development and deployment of the Internet of Things, which in turn helps to drive business transformation.
Measuring only 4.2 x 4.5 x 2.2 inches, the BRIX is a compact system designed for IoT applications such as power grid, factory automation and much more. The BRIX offers a LPC header onboard which can be extended to four COM connections for sensors or data aggregation control devices, a Gigabit Ethernet LAN port, a USB 3.0 and two USB 2.0 ports. In addition, it also comes with one half-size mini PCIe slot that supports a Wi-Fi network card.
The BRIX is pre-installed with the Intel Gateway Solution for IoT which bundles the Wind River Linux 5.01, Wind River IDP 2.0, McAfee security functionalities, and a wide variety of connectivity protocols and programming environments. This brings the benefits of IoT to legacy infrastructures with device management and data sharing through a system. Customers do not need to replace existing infrastructure and are able to securely aggregate, share, and filter data from the edge to the cloud and finally, are able to focus on new value-added services thanks to this turnkey solution.
We cordially invite you to visit us at COMPUTEX 2014, booth D0002 in TWTC Hall 1 and experience our innovative development. To learn more about GIGABYTE Intelligent IoT Gateway, please visit b2b.gigabyte.com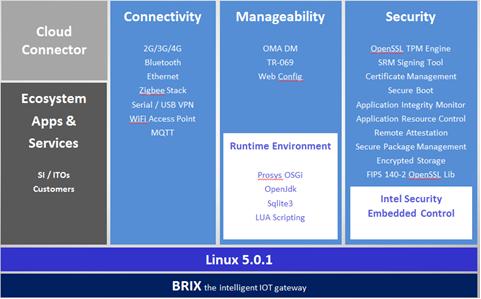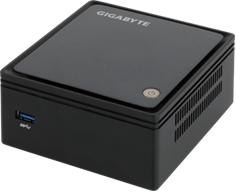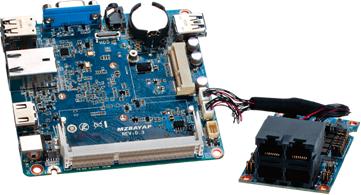 Photo: Compnay