ECS shows innovation and determination with diversified product line
Press release
The largest ICT trade show in Asia and the second largest in the world, Computex Taipei 2014, attracting over 130,000 visitors, including 38,000 international visitors with 1,700 exhibitors using 5,000 booths, will be held during 6/3-6/7. The motherboard leading manufacturer ECS will demonstrate product diversity and innovation along with the new product announcement during this event. Welcome to find out more at ECS Booth L0118 Nangang Hall, Taipei.
After Intel released its 9-Series chipset in May 2014, ECS' high-end gaming brand, L337 GAMING, has launched its brand-new Z97-MACHINE with Intel Z97 Express chipset, a gaming-oriented motherboard with world-class ESS SABRE audio to rock gamers' sounding experience. Also two new L337 GAMING family members with ITX form factor, Z97I-DRONE and H97I-DRONE, will be globally announced at Computex. Besides gaming motherboards, ECS emphasizes the importance of customer satisfaction and tries to fulfill different aspects of motherboard applications, such as multimedia, business, and industrial PC, ECS provides a total solution for different needs. Other than motherboards, the highly asked LIVA Mini PC Kit, recently released in Taiwan and Japan, will be the most anticipated highlight at Computex. With only 190g, a PC consumes just as a light bulb, LIVA is not only the world's smallest Windows-based mini PC kit but also a milestone of how people change the perception of using computers. At LIVA Section at ECS Booth, there will be the "Design Your Own LIVA" competition final. All the participants are able to vote for the masterpieces and get the opportunities to win grand prizes. As of the growing all-in-one PC, ECS shows great determination in introducing innovation. G24 with 4K Ultra HD monitor demonstrates astonishing visual possibility and only 3100g V20 with fan-less thermal design defines brilliant sounding in silence.
Besides the exciting ECS new products, there will be plenty of shows and activities, and a special bonus will be presented to ECS visitors during Computex. Come visit ECS Booth at Computex Taipei 2014.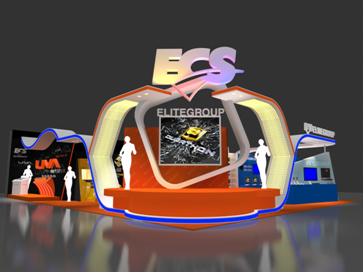 About ECS (Elitegroup Computer Systems)
ECS, the Elitegroup Computer Systems, was established in 1987, and is approaching its 27th year of business. More than two decades, ECS has overcome a great deal of obstacles facing new businesses and has experienced the joy of significant growth and development. Its main focus has expanded to not only motherboards, but also desktop and notebook computers, graphics cards and other mobile products. ECS is strongly committed to develop cutting-edge technology in order to generate innovative products under environmental friendly designs. ECS comprehensive system of quality control provides our clients with reassurance and fosters long term cooperation. Visit http://www.ecs.com.tw to learn more.