Computex 2014: Intel unveils innovations for mobile devices, desktops and 2-in-1s
Press release; Joseph Tsai, DIGITIMES
Intel president Renee James has unveiled several new innovations at Computex 2014 including a SoC platform for entry-level mobile devices, 14nm fanless mobile PC reference design, new CPUs and technologies.
Noting progress toward bringing the company's first integrated mobile SoC platform for entry and value smartphones and tablets to market in the fourth quarter of this year (2014), James made the first public phone call using a smartphone reference design based on the dual-core Intel SoFIA 3G solution. Intel will also bring a quad-core SoFIA LTE part to market in the first half of 2015 and last week announced a strategic agreement with Rockchip to add a quad-core SoFIA 3G derivative for entry-level tablets to the SoFIA family, also due in the first half of next year.
James also revealed the company's 14nm fanless mobile PC reference design. The 2-in-1 is a 12.5-inch screen that is 7.2mm thin with keyboard detached and weighs 670g. It includes a media dock that provides additional cooling. The design is based on the first of Intel's next-generation 14nm Broadwell processors that are purpose-built for 2-in-1s and will be in market later this year. The reference design is powered by Intel's Core M processor for energy efficiency.
James introduced the fourth-generation Intel Core i7 and i5 processors "K" SKU, deliver four cores at up to 4GHz base frequency. The desktop processor, built for enthusiasts will start production shipments begin in June of this year.
For the data center I/O needs, James introduced the Intel Solid-State Drive Data Center Family for PCIe to meet the increasing need for high-performance, consistent and reliable storage solutions in the data center while helping to lower total cost of ownership. The drives will be broadly available in the third quarter of this year.
In order for computing to become more personal, James said it needs to meet people on their own terms, making interaction more natural and intuitive. She highlighted collaborations and new advances to bring Intel RealSense technology and 3D cameras and supporting applications to a growing number of 2-in-1, all-in-one, tablet and other personal computing devices.
James said that the Intel RealSense software development kit 2014 will be made available to developers in the third quarter of 2014, providing opportunity for developers of all skill levels to create natural, intuitive user interfaces.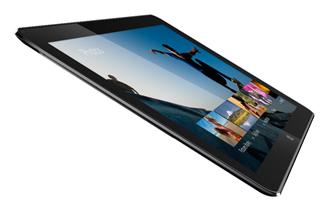 Intel 14nm fanless mobile PC reference design
Photo: Company