Since 1998 when it delivered the 1st Direct IDE-IDE RAID 1 disk array subsystem in the world, Accordance Systems has continued providing different disk array products for over 16 years. Its disk array series "ARAID" is not only available in Japan, the US, Europe, Australia and Taiwan; it has also been selected by various customers as their standard disk array products. Accordance is leading the market again this year by launching native SATA III RAID 1 disk arrays which support 6Gbps SATA III 3.5-inch hard drives and 2.5-inch HDD / SSDs. ARAID 5000 and ARAID M500 series offer faster data read/write speeds.
ARAID 5000 and ARAID M500 series can be operated without any drivers. Once installation is completed, the BIOS will detect this unit as a single hard drive and then it can start operation immediately. The conditions and accessing of the hard drives are indicated by LED indicators and on LCD monitors. When any of the hard drives fail, the buzzer will automatically sound an alarm. When a new hard drive is installed, the automatic rebuilding progress will be displayed on the LCD monitor. The computer or equipment can continue to work without shutting down.
ARAID 5000 and ARAID M500 series include high-speed ASICs, CPUs, RAM and ROM, and will not occupy any system sources. Their performance efficiency is better than other software-based disk array modules. Meeting the high standards of multi-tasking and nearly 24/7 requirements, they guarantee all the data are completely written into two hard drives. With Accordance's specially-designed fast switch button, users can simply set the hard drives into a single disk access or turn on two hard drives backup functions simultaneously. Hence, the hard drives can be accessed by flexible configurations, which can avoid the hard drives from getting the virus and causing data loss.
ARAID 5000 and ARAID M500 series not only continue to feature Accordance's unique "SNMP management" technology; ARAID series products also include ARAID SMART monitoring and management utility to meet customers' needs. Users can use ARAID SMART utility to monitor the hard drive and check the disk array status. When the hard drive SMART warning occurs, it will use sound, e-mail or SNMP to inform users that the hard drive is starting to produce bad sectors. Thus, the user can have an early warning and exchange it as soon as possible, instead of waiting until the hard drive completely fails. This ensures data security.
Accordance Systems has also introduced the innovative HDD accelerator, "GF-HDD Turbo," which is able to improve work efficiency, save power on/off time, and decrease data read/write time. GF-HDD Turbo does not need to install any cards and drivers. It supports various SSD brands, and easy Plug and Play. It allows users to reduce wait time, accelerating computer operations. The use of GF-HDD Turbo can not only save about 30-50% of the time at the computer on/off stage, but also improve by about 50- 200% in terms of effectiveness at the data access stage. Users who use older computer models will enjoy great improvements to their computer performance by using GF-HDD Turbo.
Accordance Systems has been committed to enhancing computer data security and data access performance. It has been at the forefront of the market. The future trends at Accordance Systems will be to use the Internet to enable automatic management of equipment. Thus, the company has launched the new solution, "RCVM" (Remote Control Video Management), which can provide users with real-time video monitoring and remote troubleshooting systems for their PCs at the production lines.
RCVM is an integration of video capture network modules, and the maintenance staff will be able to view split-screen images with real-time display on the RCVM system. When there is a problem, the maintenance personnel can click on the computer screen directly to get remote connection immediately for troubleshooting, which makes it unnecessary for the maintenance personnel to strive to reach the scenes in the shortest time possible. This can reduce loss of production. It can also integrate with AOR recording systems to record what is displayed on the computer screens. Recordings of the images on the computer screen can be played back later to enhance review of the management.
Accordance is at Computex booth at J0330, 1st floor of TWTC Nangang Exhibition Hall.
Email: salesworld@accordance.com.tw
Phone: +886-2-2726-3239.
Website: http://www.accordance.com.tw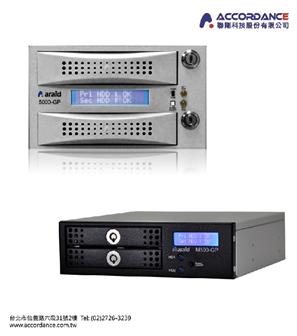 Accordance ARAID 5000 & ARID M500 disk array products
Photo: Company