Microsoft has introduced the Surface Pro 3, a tablet and also a notebook. The device has multiple processor, RAM and storage options intersect with a design that, with a simple snap or click, transform the device from a tablet to a full-functioning notebook, according to the vendor.
The Surface Pro 3 features a 12-inch Full HD display, fourth-generation Intel Core processor options, click-in keyboards, and a multi-position kickstand. The device runs Windows 8.1 Pro and includes software such as Microsoft Office for daily document processing. In addition to the standard touchscreen control, the Surface Pro 3 also comes with the Surface Pen, a stylus for handwriting input.
Microsoft also has several new accessories and features for the new Surface Pro 3 such as the improved Surface Pro Type Cover, a full-size USB 3.0 port, microSD card reader, Mini DisplayPort, a docking station and an Ethernet adapter.
Starting at an estimated retail price of US$799, the Surface Pro 3 will be offered in multiple configurations featuring fourth-generation Intel Core i3, i5 and i7 processors.
The Surface Pro 3, the Surface Pro Type Cover and the Surface Pen will be available for pre-order starting May 21 through Microsoft's online store, Microsoft retail stores and select third-party retailers.
Beginning June 20 in Canada and the US, Intel Core i5-based Surface Pro 3 will become available. Additional configurations will come later in August.
By the end of August, the Surface Pro 3 and select new accessories will become available for purchase in 26 additional markets, including Australia, Austria, Belgium, China, Denmark, Finland, France, Germany, Hong Kong, Ireland, Italy, Japan, Korea, Luxembourg, Malaysia, the Netherlands, New Zealand, Norway, Portugal, Singapore, Spain, Sweden, Switzerland, Taiwan, Thailand and the UK.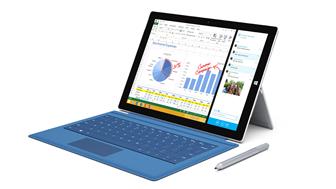 Microsoft Surface Pro 3 tablet/notebook
Photo: Company