AMD has launched the AMD Radeon R9 290X graphics card, featuring AMD's Graphics Core Next (GCN) architecture and Mantle, a latest graphics technology developed by AMD.
With Mantle, game developers can harness the GCN-powered architecture found in both PCs and consoles, empowering them to speak the native language of the GPU core and benefit from hardware optimization that unlocks performance and image quality, claimed AMD.
The graphics card is also equipped with new AMD TrueAudio technology, which is able to enhance the card's audio output, and supports AMD Eyefinity technology, for image output in multiple displays.
The AMD Radeon R9 290X graphics cards are available on October 24, 2013 at a starting price of US$549.
AMD Radeon R9 290X graphics card specifications

Item

Detail

Stream process unit

2,816

GPU clock speed

Up to 1GHz

Memory

4GB GDDR5

Memory clock speed

Up to 5Gbps

Memory bandwidth

320GB/s maximum

Compute power

5.6 TFlops Single Precision

API support

DirectX 11.2, OpenGL 4.3, Mantel
Source: Company, compiled by Digitimes, October 2013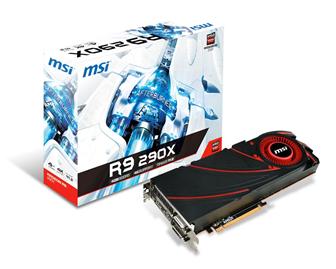 MSI R9 290X graphics card
Photo: Company