Toshiba has announced that it will expand its family of small form factor 2.5-inch hard disc drives (HDDs) with a new series that packs up to 500GB of data storage into a unit with a height of just 7mm. The new MQ01ACF series will start shipping on August 30.
The MQ01ACF series is Toshiba's first 7,278rpm, 2.5-inch product with a 7mm height. The series offers two models: the MQ01ACF050 with a recording capacity of 500GB and the 320GB MQ01ACF032. A maximum internal transfer rate of 1,850Mbit/s is realized by improvement to linear recording density and the 7,278rpm rotational speed. Implementation of the 6Gbit/s SATA interface also boosts data transfer rates over those of current models.
The slim MQ01ACF series is suitable for notebooks and ultra-thin notebooks, especially for high-end PCs that offer high speed data processing.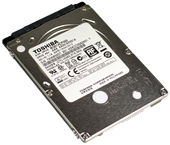 Toshiba MQ01ACF series HDD
Photo: Company