Nvidia has unveiled its new flagship technology, the Nvidia Quadro K6000 GPU along with the launch of a new line of professional graphics GPUs for mobile workstations, delivering performance on mobile platforms.
The Quadro K6000 GPU delivers five-times higher compute performance and nearly double the graphics capability of its predecessor, the Nvidia Quadro 6000 GPU, and features the largest and fastest graphics memory available currently, claimed the GPU company.
The Quadro K6000 GPU is based on the Nvidia Kepler architecture with key performance features and capabilities include 12GB GDDR5 graphics memory, 2,880 streaming multiprocessor (SMX) cores, support for four simultaneous displays and DisplayPort 1.2 and ultra-low latency video I/O and support for large-scale visualizations.
Nvidia also revealed a new flagship professional graphics GPU for workstation notebooks, the Quadro K5100M GPU. The Quadro K5100M anchors a new line of workstation notebook graphics that includes the Quadro K4100M, K3100M, K2100M, K1100M, K610M, and K510M GPUs.
The Nvidia Quadro K6000 will be available beginning this fall from Dell, Hewlett-Packard (HP), Lenovo and other major workstation providers; from systems integrators, including BOXX Technologies and Supermicro; and from authorized distribution partners, including PNY Technologies in North America and Europe, ELSA and Ryoyo in Japan, and Leadtek in Asia Pacific.
The new Quadro mobile workstation graphics product line will also be available beginning this fall from major mobile workstation OEMs.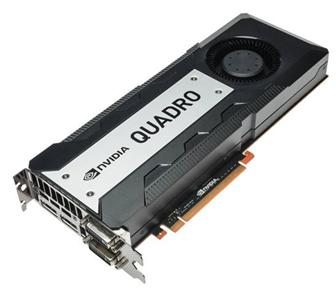 Nvidia Quadro K6000 graphics card
Photo: Company