Jason LS Chen is a vice president in the Sales and Marketing Group at Intel and is responsible for all sales and marketing activities for Intel in Taiwan. As country manager, he supports original equipment manufacturers (OEMs) and original device manufacturers (ODMs) in Taiwan. He also manages domestic market sales and marketing operations in Taiwan, including Computex. As Taiwan site manager, he is responsible for coordinating operations in Intel's Taiwan office.
Digitimes spoke with Chen just before Computex Taipei 2013 to get a glimpse into the trends that are shaping Intel in Taiwan, especially in the mobile market.
Q: So you pretty much run all of Intel's interests here in Taiwan?
A: Not all. There is a small exception. Two OEM customers, Acer and Asustek Computer, have dedicated teams managing them. APAC manages those customers, as the complexity of these customers is quite high.
Q: Since you deal quite a bit with customers, you must get a lot of feedback. How does that feedback translate into making sure future products address customer concerns?
A: This process is actually managed through different sections of the company. People in the US are responsible for product definitions and features. They talk to Taiwan regularly, and once or twice a year they come to Taiwan and talk directly to customers. Of course customers will also talk directly with me about products. I provide that feedback to the product groups through regular executive communication. There is engagement on all levels.
Q: Over the past few years there has been a shift in the mobile space from traditional PC products to ultra-mobile products like smartphones and tablets, in particular over the past two years. Can you comment on the trends and how this is affecting Intel?
A: This is definitely the trend we are seeing here in Taiwan. In the tablet space, initially it was Apple driving the market; however, recently we have been seeing steep growth in non-Apple tablets. For example, Asustek is playing an aggressive role promoting its tablets in the market and we are also working with some customers in the tablet space.
What we are seeing in this market is that user experience is becoming more important than product features. End users are paying increasingly more attention to what kind of experience they can get from their devices.
The effect on Intel is that the traditional messages you see in the PC space concerning speed and leading-edge hardware specs are not enough for this market. We also need to delve more into how end-products are being viewed and used by users.
Q: There is also a big difference in how mobile devices are sold compared with traditional PCs. Can you comment on the different distribution methods and how you are adapting to best target the various channels?
A: In the past, there was a distribution channel for PCs and there was a distribution channel for mobile handsets. They were very different channels and there was little overlap. For example, the handset area was hugely involved with telecoms and subsidized products, while the PC industry was a retail distribution play. Starting with feature phones, smartphones and now with tablets, the products started to converge and channel players tried to cross over from each channel, but for the most part, there hasn't been a lot of crossover success.
The key right now is tablets, because it is the only type of product that still exists in a gray area. So both channels are laying claim to it.
For Intel, we want to be involved in all types of products – handsets, tablets and PCs – so while we are continuing to work with the PC distribution channel, we need to be more involved in the telecom channel.
Q: What steps are you taking to be more involved and successful in the telecom channel?
A: There is no magic formula for that. The way we can succeed there is by getting as many design wins as possible. To do that, we have to continue improving our silicon and that has been an ongoing process. We will be one step closer with products that are coming out later this year based on our Silvermont platform.
The other area we are paying closer attention to is operating systems for ultra-mobile devices, namely Android. In the phone space you have to really figure out how to run Android optimally on your devices. For that we are working very closely with Google, making sure that Intel silicon has the right support in the Android space and embracing the mobile device ecosystem a lot more than we did before.
Q: There are a lot of rumors in the market now that Intel will be making some big breakthroughs in the tablet market. Can you comment on any of those rumors?
A: Of course we can't talk about any specifics in that area because of customer confidentiality but we are working very hard in this area. Personally, I think the right expectation is that the market will see a lot more Intel-based tablets in the future.
Q: Concerning operating systems and software in general, can you comment on how Intel is addressing the increased focus on user experience in the mobile device market?
A: This is a very complicated topic and perhaps your readers should check in with Intel during Computex, because we will have a lot to say about this. But for now, I can briefly say that for Intel, user experience is not just software. It is really the combination of hardware and software.
Take NFC (near field communications) for example, to have a successful solution you need hardware features enabled with software capabilities, and then an app that takes advantage of those features in a seamless way. It is only when all those things operate in unison with each other that the technology becomes meaningful to the user, and a lot of the technology needs to be invisible to the user. You really need to pay attention to usage models.
One of the reasons Apple has been so successful with its mobile devices is the touch experience it delivers to end users, and that success involves a lot of hardware tuning. However, Apple is coming from a background where it was enabling smaller displays, and that goes for most players working with touch.
However, we work with a broad swatch of solution providers targeting various markets, so it can't be one strategy to fit all. Just one or two years ago, there weren't that many 11-inch touch displays in the market. Moreover, the usage models, what types of features are most important, are different when comparing phone displays with tablets, and even more so when larger-sized displays, say for a 21-inch all-in-one (AIO) PC, are taken into consideration.
To address the various usage models and market segments, Intel introduced our touch-capacitive program last year at Computex. We are working with a few touch panel leaders like TPK Holding and Wintek, with the purpose of enabling the touch industry in areas we feel are being ignored.
If you look at the AIO PC market for example, there are solutions available using today's technology, such as one glass solution (OGS), but that would be a very expensive solution for a 21-inch panel. So, we are approaching areas such as this to see if other technologies, such as film-based touch and optical touch, can enable the market in terms of cost and user experience.
Q: Will Intel move into complete systems to address these challenges?
A: I am not aware of any complete devices that Intel will be doing.
However, Intel does recognize that we need to improve on platform technology. For example, we have a lot of experience in horizontal businesses, like the industrial PC industry. But we are more of a relative newcomer to phone markets, where the involvement is much more vertical.
To be more successful in this vertical space, we need to have a better understanding of the entire ecosystem. It is not only about focusing on supporting products through our silicon, we need to focus on the full system in order to enable partners throughout the supply chain.
Q: What about support on the operating system side? How different is it for Intel to work with Android compared with Microsoft Windows?
A: With Windows, Microsoft makes it easy to add hardware support. To support new devices, the vendors usually simply provide a driver. Microsoft provides the interface for incorporating the driver and the process of getting the device supported is relatively straightforward. With Android you have to integrate support for new devices at the operating system level. If you want to incorporate new sensors or memory for the touch-panels, it all has to be fitted into the operating system. And you have to do it by yourself. We are now doing a lot of in-house development to support our own Android capabilities. We provide customers with the full Android stack, so part of the enablement is us being very involved in the Android BSP (board support package).
As I mentioned previously, we also have to figure out how to best support a broad set of customers who are targeting different product segments and thus have different requirements. Not everyone will be involved in the same ecosystem.
Q: There are a lot of expectations that the upcoming Bay Trail SoC will help Intel better succeed with design wins for mobile handsets. Can you comment on the upcoming Atom (Silvermont) platform?
A: Silvermont is a very important development for Intel. The architecture will be based on a 22nm manufacturing process, which means we will be manufacturing Atom (Silvermont) at the same process as our Core architecture. This is the first time Intel has placed our low-power process at the same cadence as the most advanced Intel processor technology.
Our latest Core (Haswell) will be on the market soon and that will target productivity platforms where the main focus is performance, but for the ultra-mobile space, where very thin designs or very small form factors are key, Atom will be the choice.
Q: Atom has always been priced to be very affordable. Will the significantly improved power consumption (and related battery life issues) and performance boost of migrating Silvermont to 22nm make Intel rethink pricing on the Atom platform?
A: Pricing will not see a big change.
Q: This should represent some interesting opportunities in the mobile space. Atom was the foundation of low-priced netbooks. With the advances in power and performance, do you foresee a revival of the netbook market?
A: Netbooks didn't really go away. Our Classmate PC is still shipping in good quantities in the global education market. Convergence devices in the tablet and netbook market will also be adopted in the education market. We expect both types of products to run in parallel in this area.
Q: In terms of convergence devices, tablets have mostly been used for consuming content, but some users want more PC-type features in their tablets. With Bay Trail targeted at handsets, but being able to support full PC performance, do you see even more opportunities for convergence devices; for example, a US$200 Android PC?
A: US$200 price points are very realistic for these devices.
In terms of convergence PC devices, there could be interest in tablets that support full USB I/O so that a keyboard can be attached. We have plans to support these types of device in the market very aggressively, no matter the OS. Obviously, if users are looking for a keyboard, they are looking for productivity and that means better performance than most current tablets offer. These new types of convergence devices could be based on Android but this is really new so we don't know for sure what will happen.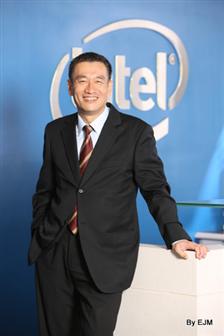 Jason LS Chen is a vice president in the Sales and Marketing Group at Intel and is responsible for all sales and marketing activities for Intel in Taiwan.
Photo: Company