Make good products and growth will come naturally: Q&A with Gigabyte notebook team
Ricky Morris, DIGITIMES, Taipei
Despite being one of the market leaders in the motherboard and graphics card industries, Gigabyte Technology is relatively unknown as a notebook player. Digitimes recently sat down with Richard Ma, Gigabyte Senior Vice President, and Vincent Li, G-style Sales Division Director, to discuss the company's outlook for the notebook industry in 2013, and its plans for Computex Taipei 2013.
Q: Gigabyte is mostly known for motherboards and graphics cards, where do notebooks stand in the company picture?
Vincent: In terms of the Gigabyte Group, the motherboard business occupies around 55-60%, in terms of revenues, and another 15-20% is graphics cards. So motherboards and graphics cards occupy almost 80% of total revenues. Another 10% is networking related, including servers, client devices, set-top-boxes (STB) or hubs etc., and the last 10% is mobile devices including notebooks, mobile phones/smartphones.
Q: Do you expect that percentage to grow, what is your outlook for 2013?
Vincent: This year our market intelligence indicates that first quarter was not so good because the PC market on average dropped around 15% on year. Everybody expects the second quarter to see a smaller drop, around 5% compared to last year, meaning there's an average decline of 10% in the first half of the year.
Q: When you say PC market does that cover notebooks, desktops, and tablets?
Vincent: It doesn't include ARM-based tablets. I'm taking about what we'd call traditional PC businesses. Our goal is trying to find ways to expand or extend things that are PC related. Another way to think about it is that the boundary is devices that are x86 CPU related, and the other business is concerned with ARM-based devices. Speaking consumer wise, the tablet market has both kinds of devices, ARM-based and x86, so we divide that into Windows or Android-based, as well as iOS. In the past 2-3 years, ARM-based platforms have grown a lot, especially smartphones, and this has had a big impact on mobile PC platforms.
The good thing for this year is that for Windows tablets we expect a lot of growth compared to last year. In the second half, x86 CPUs will become more power efficient while still keeping the same performance improvements compared to last year's models. This will help to evolve form factors, so you will see the new generation of Windows tablets being thinner and lighter, and more power-efficient, while also being more powerful. This is good for PC players focused on x86 platforms as we see an opportunity to grow the market based on the new-generation of x86-Windows-based tablets.
Of course we also know that Windows 8 will be upgraded too, which will help improve the touch experience, and overall the tablet experience for consumer and business users.
Overall I really expect big changes this year based on these factors.
Q: What will be your major announcements at Computex 2013?
Vincent: At Gigabyte we have three major themes: thin-and-light gaming, powerful ultrabooks, and Windows-x86-based tablets.
For notebooks this year Intel will push ultrabooks as mainstream devices, basically we will see the ultrabook concept become the standard design seen in the market, and we'll see ultrabook influences across all platforms. At Gigabyte we have taken our focus from this trend, so you'll see ultrabook features in our gaming notebooks for example. In the past, the gaming platform was very powerful, but came with a huge form factor, so our concept and our technological focus has been how to design a powerful platform but in an ultrabook-like form factor.
For gaming platforms, or what we are now calling ultra-gaming, you'll see our new P34 and P35 14- and 15-inch notebooks and later a P37 17-inch model. The main concept behind this series is taking gaming performance hardware into an ultrabook design, a very slim design. The 14-inch model is just 21mm thick, and the definition for ultrabooks in 21mm. Inside we have put Nvidia GTX-level graphics, and to achieve this we designed two isolated and powerful fan outlets in order to handle the output from the GPU. However, the weight is only 1.9kg for the 14-inch model.
Another key design concept has been that all our units carry a full set of I/O ports in order to provide the end user with the best usage experience. It's not like with other ultrabooks where you have to sacrifice ports in order to get the design very slim. We think that the user doesn't want to sacrifice.
Regular notebook gaming machines are conventionally huge, and very heavy. These types of machines are popular among teenagers and students, but when these users graduate and start work they want to share the same device for work but don't want to carry around a heavy box, and don't want to have a device that has lots of bright LEDs and attention grabbing colors which is common in gaming platforms. Our aim has been to deliver gaming-level performance in a design that is not going to stand out in an office cubicle or meeting room.
Richard: Gigabyte already has a top-tier reputation with our motherboard and graphics card engineering and quality. For notebooks, if you want to put Core i7 and GTX 7-series level hardware inside such a slim box and without sacrificing performance like we have, the technology demands are really high in terms of the electronic and thermal integration.
Then for storage we still provide a regular hard drive in order to deliver capacity, but we've also implemented support for two mSATA sockets. So we can do SSD RAID for performance, again without sacrificing capacity and still keeping the slim form factor.
Also in the 15-inch model we have accommodated an optical drive, which we think meets the most common usage needs at this level. This is a 2.3kg device so we wanted to use that extra space to provide the full usage experience.
Q: That's gamers covered, what about the mainstream market?
Vincent: For ultrabooks this year the standard, as defined by Intel, says they must be equipped with a touch screen, so that's the key feature you will see in our models for this segment.
For ultrabooks we think there are three main customers: users that are concerned about the weight, ones about performance, and ones that focus on price. In the market you can find a machine that has a good price, and it's very slim, perhaps only 15mm, but you have to sacrifice at lot in terms of performance, I/O ports, and storage.
For our ultrabook strategy we don't want to compromise on these key features, so our devices meet the standard for ultrabooks - battery-life, thickness, and touchscreen, all these comply with the ultrabook definition - however we don't want to sacrifice performance, so we have implemented the highest performance Nvidia GT graphics, just below GTX performance, and for storage we have a regular HDD alongside mSATA so we can have speed and capacity at a good price combination. Also the main thing is we still have all the I/O ports. That's why we call this category ultra-performance.
Richard: I think for users that want an ultrabook but with performance we provide the most balanced design.
Q: Of course everyone expects tablets to be big this year, what new products will Gigabyte have to offer?
Vincent: Our flagship product for this segment is a design we call the Padbook. This can also be classified in the ultrabook category as we've designed it with a detachable keyboard.
If look at the tablets on the market there are no devices with full I/O, but we've got USB 3.0, microSD, audio and HDMI, and we even managed to put in VGA because when you go out to do a presentation or something, the common projector standard is still VGA.
Another highlight of this design is the finger mouse, this allows the user to hold it like a tablet and still use Windows in desktop mode which requires a very precise pointer.
The final highlight of this tablet is the keyboard. It is not like a traditional 10- or 11-inch keyboard, it's actually full size, it's actually the same as you will find on our 14-inch ultrabooks. This makes such a big difference to the experience. It allows full-speed typing so productivity is not affected. And then we have a trackpad too, which is not common in keyboards for tablets, but we feel that it was an important feature to retain because when you go out, you don't want to have to remember to bring a mouse. It's all about providing "everywhere usage".
On the market there are a lot of ARM-based tablets, which are very light and offer long battery life. However, when we design tablets for Windows we want to allow the user to leverage the best experience of the OS. So that means compatibility and also I/O, otherwise why choose Windows? People want touch, but they also want the convention Windows experience. That was our target. That was our original design philosophy.
Richard: When people look at our device, what it can offer, they see they don't need an Android device and a Windows PC, they don't need two units, this device meets all those criteria - the form factor, the cost, and the features - again we feel that our design represents the most balanced in the segment.
Q: Based on the devices we've discussed so far it seems fair to say you are targeting the high-end market. Is that your strategy - to focus on the high-end and leave the low-end market to others?
Vincent: Despite the size and long pedigree of Gigabyte, in terms of mobile devices we are still a newcomer to the market. So at this stage our focus is on the mid-to-high-end market. This allows us to demonstrate our technological capabilities, our wealth of engineering expertise, by giving end-users a premium experience. People ask me, "Don't you want volume?" I do, but at this moment, that would not be the right strategy for us. That is why we have chosen the three-category product strategy we discussed, these give us the opportunity to really highlight the technology, and bring value to the market.
Another consideration is that our economic scale is not that big, so trying to compete on price would not be a good strategy for us.
Richard: One thing to note is all these products are designed in Taiwan and made in Taiwan. Maybe one or two components are sourced from China, but all design comes from our in-house teams, our industrial design, mechanical engineering, electronics and software/BIOS, everything is done in Taiwan. This is very special compared to the rest of the market. We design ourselves, we manufacture by ourselves at our factory in Taoyuan, and we do all the sales and marketing ourselves from here in Taipei.
Q: Doesn't manufacturing in Taiwan limit your volumes?
Richard: Right now, we aren't targeting volumes of one million units a month. Our focus is brand positioning, we want consumers to be aware of our products and our value-added technology. If we focus on building a strong brand now based on features and quality, we are confident that our market will grow and grow.
Q: Recently we've seen quite a few novel designs for convertible notebooks - for example dual touch screen designs or ones where the keyboard and trackpad are reversed so that the screen can be positioned between the two. Why has Gigabyte stuck with the more traditional rotating hinge or book designs?
Richard: There are a lot of ways to implement this concept - when you want both the traditional notebook and tablet usage modes in the same device. Our research and testing into the different form factors showed that these implementations satisfy to widest range of applications. We feel you need to consider the most common applications foremost, and make sure not to compromise usability there.
For example in the design you mentioned where the keyboard is moved to the bottom, first this means you lose the use of the trackpad when in folded mode, and more importantly you lose the palm rest space. If the keyboard is on the bottom edge where do your palms rest? How do you maintain a comfortable wrist angle without getting tired? And how can you use this on your lap without it moving? There's no point changing a design just to be new or different if it means sacrificing usability. Sometimes traditional designs are best.
Q: What are your key markets currently, and what are your aims for 2013?
Richard: Because right now our volumes are not very high, there is little difference in our market shares across regions. North America, Europe, Asia, in each region the picture is about the same. There are certain countries such as China and India where the market is so big, then volumes are a bit higher, but product prices there are a bit lower too. In these cases we have to adjust our product mix and change the SKUs on offer, and so overall things balance out.
Our long term policy is to enlarge the mid-range to high-end segment, even in emerging markets, and to remain responsive to the market. Building brand image with good products, good designs, and good features and innovation will remain the main focus.
Compared to say five years ago the market has changed considerably. It used to be that you knew what to do for each season, when to release new products, when to clear stock, when to cut prices etc. It used to be you knew what to do each quarter. But in the past two years the market has changed, sometimes you can't accurately see two months ahead. We have learned a lot. We are careful about setting strategy, but we also have to be able to listen to market feedback and respond to change quickly.
For Gigabyte I think the important thing for us it to continue to show passion. We need to bring value to the market for customers, and differentiate by leveraging our specialties. I don't want to be like a typical PC player pushing out new products just to follow the latest tread, or cutting prices to sell more. If we can make really good products growth will come naturally. That is my philosophy.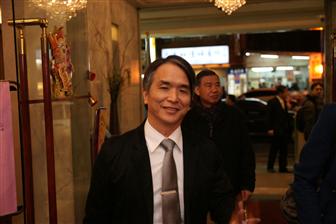 Richard Ma, Gigabyte Senior Vice President
Photo: Company