At a press event held in New York, Acer has unveiled its latest mobile products including the Aspire R7, a 15.6-inch notebook; Aspire P3 ultrabook; Iconia A1 7.9-inch tablet; and updated Aspire V5 series notebooks and new Aspire V7 ultrabooks.
The Aspire R7 features a Full HD 1920 by 1080 touch panel with a repositioned keyboard and an Ezel hinge that moves the display forward and into different positions.
With four modes of operation, the R7 can be used as a traditional notebook, a desktop pad, a display, or switched into Ezel mode, allowing the screen to float over the keyboard at various angles.
The Aspire R7 features a 15.6-inch touchscreen display, an Intel Core i5 processor, up to 12GB of memory, up to 1TB hard drive, or up to 256GB SSD and a full-size backlit keyboard. It also includes a volume control button, HDMI port, SD card reader, audio jacks, three USB ports, Wi-Fi, Bluetooth and a converter port supporting VGA, Ethernet and USB.
The Aspire R7 will start shipping in June.
Weighing 3.06lb and measuring 0.77-inch, the Aspire P3 delivers performance and long battery life in a highly portable form factor with an 11.6-inch IPS HD display, Intel Core i3 or Core i5 processor, built-in Acer Crystal Eye HD webcam, 5-megapixel back camera and 60GB or 120GB SSD for data storage, according to Acer.
The Acer Aspire P3 comes with an optional stylus that fits in the case for users who want the convenience of pen-based input. It also comes with a full-sized USB 3.0 port so users can connect a mouse, printer, and other accessories. The Aspire P3 will start shipping in May.
Acer also unveiled the Iconia A1, featuring a quad-core 1.2GHz processor from MediaTek, LED-backlit display with IPS technology and 170-degree viewing angle. The Iconia A1 also supports Wi-Fi and Bluetooth 4.0 as well as a 5-megapixel rear-facing camera and a front-facing camera with enhanced microphone. The micro USB 2.0 and microHDMI port enable quick transfer or sharing of customer's photos, music, videos and other digital content. The Iconia A1 is available in either 8GB or 16GB versions and has an option to add an additional 32GB storage via microSD memory card. The Iconia A1 will start shipping in June.
Based on lifestyle and performance needs, users can choose models from the company's V series product lines with specifications including 15.6-inch, 14-inch or 11.6-inch displays. All models are available with a choice of touch or non-touch panel. Models are also available with next-generation AMD dual-core or quad-core processors, or the latest Intel CPUs. Select configurations also include Nvidia GeForce GT700M series or AMD Radeon HD8750 discrete graphics.
The new V7 series ultrabooks include a variety of the latest Intel processors, solid state drives, Acer Theft Shield, the new Acer converter port and WiDi, Intel's Wireless Display technology. The Aspire V Series will start shipping in May.

Acer Aspire R7 notebook
Photo: Company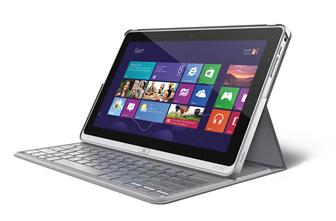 Acer Aspire P3 ultrabook
Photo: Company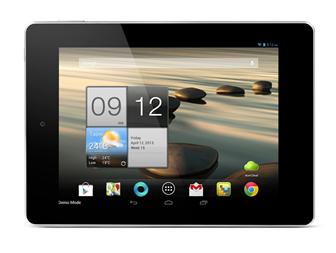 Acer Iconia A1 tablet
Photo: Company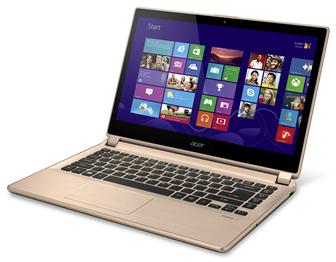 Acer Aspire V series notebook
Photo: Company