Samsung Electronics America has announced the Galaxy Note 10.1 for the US market. The device will be available for purchase from August 16, 2012 across the US at authorized retailers.
The Galaxy Note 10.1 extends the Galaxy Note category delivering the functionality and precision of a pen and paper by combining the S Pen with a 10.1-inch large display.
Adobe's premium creative application, Photoshop Touch is preloaded and optimized for Samsung's S Pen to deliver unprecedented precision and control, said Samsung.
The device also introduces a Multiscreen feature which allows users to operate two different apps side-by-side, simultaneously, on the same screen.
With Galaxy Note 10.1's Multiscreen feature, users can utilize two different applications side-by-side for easy multitasking. Users can view Web pages or videos, or launch other applications while writing or sketching ideas with the S Pen on the other half of the screen. Further, users can capture and crop images from an app on one side, and drag them to an app on the other side.
Apps supported for Multiscreen are S Note, Internet browser, video player, e-mail, gallery and Polaris Office. The Galaxy Note 10.1 thus meets the increasing needs of a growing mobile workforce, from interfacing with customers to creative sharing, said the company.
The Galaxy Note 10.1 also offers the Pop up Play feature first introduced on the Galaxy S III Smartphone. With it, users can play back videos in a floating window that can be overlaid anywhere on the screen, providing a "picture in picture" experience. New for the Galaxy Note 10.1 is the ability to adjust the size of the video window.
In addition, Galaxy Note 10.1 offers a mini-apps tray that can launch a selection of mini-app on top of others apps and freely moved around the screen. These include Alarm, S Note, Music Player, Email, Calculator, World Clock.
Featuring an advanced S Pen with 1,024 levels of sensitivity, Galaxy Note 10.1 is designed for natural and intuitive content creation. The S Pen is embedded directly into a slot in the device and when removed, activates a taskbar with quick access to optimized S Pen apps such as S Note, Adobe Photoshop Touch and Polaris Office. Alternatively, users can easily set their preferred application to be launched instantly.
The S Note application is a unique tool that gives users the ability to combine notes and sketches with other digital content in ready-to-use templates. Shape Match converts hand-drawn shapes such a square and lines into clean and perfect versions. Formula Match can solve formulas hand-written with the S Pen.
S Note is also integrated with knowledge search engines so that users can search for content, obtain information, and easily drag and drop content onto S Notes without having to switch between screens.
Galaxy Note 10.1 is designed with advanced hardware technology, including a 1.4GHz quad-core processor and 2GB of internal RAM. Seamless multi-tasking, high-standard graphics, and blazing-fast performance without any lag are essential features of Galaxy Note 10.1. The device also includes a 5-megapixel main camera and a 1.9-megapixel front-facing camera.
The device will be available in choice of white or dark gray, and in 16GB or 32GB memory configurations, for US$499.99 or US$549.99, respectively.
Available accessories include replacement S Pen, S Pen holder kit, book cover in grey or white, travel charger, USB connection kit to allow usage of thumb drives or USB peripherals, HDMI adapter and universal desktop dock.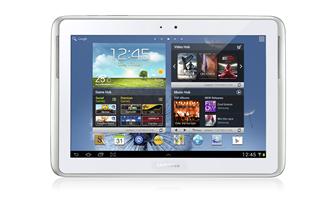 Samsung Galaxy Note 10.1 tablet PC
Photo: Company