Taipei - At Computex 2012, SAHPPHIRE Technology will display many all-new solutions and products in this international event, including the most popular globally sold entertainment graphics cards and mainboards, the PGS professional graphics solution, which is making its debut this year, and a home theater equipped with a mini PC/barebones.
SAPPHIRE Technology is AMD's most important global partner for desktop PCs and professional graphics cards. As AMD's Eyefinity multi-screen display technology becomes more and more popular, the display every year has also become more and more diverse. Whether it's for entertainment graphics cards or professional graphics cards, in addition to the performance specification upgrades, the support for multi-screen and its application is also an important part of the display. SAPPHIRE Technology released the "PGS--professional graphics solution" at the beginning of this year, and it will make its debut at COMPUTEX. By using AMD's FirePro high-end professional graphics card and SAPHHIRE PGS's display expansion product - VID-2X, SAPPHIRE invite you to experience "More Than Eyefinity" to enjoy the all new 3D world! There is also a digital signage solution and a set of cloud 3D graphics solutions in the PGS demo area. We welcome everybody to come and visit SAPPHIRE PGS's professional graphics exhibition.
The SAPPHIRE entertainment graphics cards, which global media and players always come to visit every year, is also one of the spotlights of SAPPHIRE's show this year. Two exclusive high-end RADEON graphics cards will be launched on the first day of Computex 2012: Vapor-X and TOXIC's unique features plus the extremely high specification graphics chip, combines into a monster performance. It will definitely become the focus of the exhibition. In the static demo area, you will see the eye-catching boutique-level design; they display a perfect combination of hardware and craftsmanship design. SAPPHIRE's mainboards also makes up a large part of the exhibition this year. A new generation mainboards that support AMD new debut processor chip, an Trinity APU with socket FM2 interface. All new platforms, enhanced entertainment and gaming performances and more energy-efficient power consumptions will be displayed for you by SAPPHIRE Technology.
The Cloud home theater continues to become more and more popular; SAPPHIRE's Edge mini desktop is the super cute size of the palm of your hands, equipped with HDMI output and two USB3.0 and 2 USB2.0 interfaces, with a power consumption of under 30W under full load; easily go online and enjoy cloud services. On the show, you will experience the super mini-sized computer along with the large flat-screen TV, displaying crystal clear high definition movies! In addition, the all new TRINITY barebone platform will also be displayed at Sapphire COMPUTEX 2012!
Welcome to Visit SAPPHIRE Technology at Computex 2012, Taipei
Date: June 5-8 (9:30-6:00PM)
June 9 (9:30-4:00PM)
Venue: Nangang Exhibition Hall Meeting Room No.404
Sapphire PGS website: http://workstation.sapphiretech.com/presentation/
Sapphire Global: http://www.sapphiretech.com/
About Sapphire PGS
Sapphire PGS (Professional Graphics Solution) provides various types of professional display solutions for workstation and professional clients. PGS supports full range of 3D professional applications for 3D professional users. For industrial customers, Sapphire PGS integrates all display related graphics application solutions for broadcasting wall, digital signage, medical, surveillance, ATC etc. Sapphire PGS will continuously provide the most appropriate solutions and the best after sales services.
Visit website: workstation.sapphiretech.com
About Sapphire Technology
Sapphire Technology Ltd designs, manufactures and distributes the most complete range of AMD RadeonTM based video graphics accelerators worldwide. Additionally Sapphire produces mainboards based on AMD chipset technology. Sapphire is based in Hong Kong with two ISO9001 and ISO14001 manufacturing facilities in Dongguan, China. The factories have a total capacity of 1.8 million graphics boards per month. Sapphire currently employs over 3000 employees worldwide with local representation in North America, Europe, South Africa and Asia Pacific.
2007, Sapphire has been authorized to be the exclusive partner of AMD Workstation Graphics (AMD FirePro, ATI FireGL, ATI FireMV), and AMD FireStream in APAC except Japan. This great affirmation shows Sapphire's achievement and offering, Sapphire will provide the best service to professional customer with the best workstation products.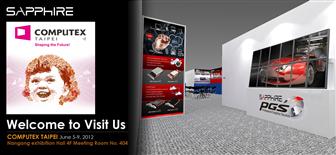 Sapphire at Computex 2012