Taipei, Taiwan - PNY Technologies, Inc, a worldwide leader in USB flash drives and a leading manufacture in memory products, today announced the new Mini M1 USB Flash Drive. Featuring a low profile design, this is one of the smallest drives available today.
PNY's new Mini M1 USB Flash Drive comes in a special high quality alloy casing with a mirror finish, providing a shiny, bright and hip appearance. The casing is very durable, rugged, and resistant to wear and tear. It protects the drive against dust and is even water resistant. Sporting a capless design, the Mini M1 does away with the hassle of taking care of the cap. It comes with a handle with a hole at the opposite end from the USB plug, where you can attach a lanyard to secure it to a keychain, purse, belt, bags, etc.
The Mini M1 weighs only 2.8g, which is half of the M1 Attache, yet another tiny drive from PNY. Although its dimensions are smaller as well, it boasts capacities up to 32GB. With this extreme portability and large capacity, you can use this trendy drive to easily share your pictures, movies, music, games, work documents and more. With write speeds up to 10MB/s and read speeds of up to 32MB/s, you don't have to wait for long for your files to transfer. The drive works with all recent versions of Windows and Mac OS 10.3 and above. Like other PNY flash drives, the Mini M1 comes with a 5-year warranty from the date of purchase.
Product Specifications
Storage Capacities: 4 GB, 8 GB, 16 GB and 32 GB
Dimensions: 4.6 mm (H) x 12.3 mm (W) x 24.2 mm (L)
Weight: 2.8g
Interface: USB 2.0
Performance: 4GB/8GB: up to 8MB/sec write, 24MB/sec read
16GB/32GB: up to 10MB/sec write, 32MB/sec read
Warranty: 5 years
Visit http://www.pny.com.tw/ for more information or to learn more about the entire line-up of PNY products.
About PNY
Established in 1985, PNY Technologies, Inc. celebrates almost 30 years of business excellence as a leading manufacturer and supplier of flash memory cards, USB flash drives, solid state drives, memory upgrade modules. The company's Photography-Videography, Mobility and Business solutions are widely available from major retail, e-tail and wholesale outlets internationally. Headquartered in Parsippany, NJ, PNY maintains facilities in North America, Europe, Asia and Latin America. PNY is an authorized partner of HP since 2008. To date, PNY operates in 20 locations - with products sold in over 50 countries worldwide.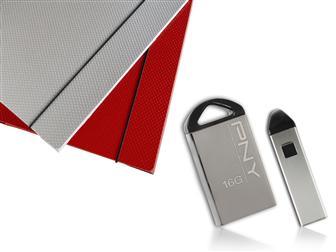 PNY Mini M1