Adata looks to move to high-end of memory and storage market
Jessie Shen, DIGITIMES, Taipei
Specializing in memory and storage solutions, Adata Technology has moved to pay more attention to repositioning its brand recognition. Creating synergy among company branches in different regions is part of Adata's re-branding efforts in an attempt to maintain a consistent image while adopting a localized sales strategy. Another is the company's efforts to gain more exposure and recognition in the high-performance market in order to solidify its brand identity.
Digitimes recently had a chance to talk to Andy Chang, VP of Adata's channel business division, about the company's rebranding efforts and business focus. Chang also shared his views on the DRAM and NAND flash market trends. The following are excerpts of the conversation.
Rebranding
Adata has been promoting its corporate logo - Hummingbird - a move to unify the various brands behind one coherent identity. The effort has allowed the company to earn accolades as one of the world's most effective rebrands in the 8th annual 2012 Rebrand 100 Global awards.
The move to reposition Adata's brand has also received positive feedback from its channel distribution partners. The 'Hummingbird' logo has helped the company increase its brand recognition and visibility.
At Computex Taipei 2011, Adata officially announced its new brand identity along with the Hummingbird logo. At the same event this year, the company's booth design and exhibits will highlight the successful brand development efforts.
Product highlights at Computex 2012
At Computex Taipei 2012, Adata's exhibits will revolve around the concept of the company's Hummingbird logo. With the theme for the event being "The Dash to Infinity," the company will showcase new products as well as upgrades of existing products, which basically will provide of the company's product focus for 2012.
Adata's booth at this year's Computex show will be mainly divided into three sections - portable hard drives and disk drives that are feature rich, performance-driven memory modules and cards, and storage solutions for industrial and enterprise customers - with the introduction of a new product naming system for the company's major product categories.
Adata is showcasing a full range of its DashDrive-series external drives at the show. The series is divided into three groups - Elite, Durable and Choice - targeting different consumer segments. The DashDrive Elite series emphasizes its ultra-thin profile and elegant look, such as a gold-tone metal case, while the Choice segment designed for the mass-market tends to go for an attractive and stylish look. The DashDrive Durable series consists of devices that are shockproof and waterproof, and at the Computex show Adata will provide demonstrations to prove the durability of the products.
Meanwhile, a lineup of Adata's internal storage solutions including memory modules, SSDs and SD cards will be exhibited at Computex Taipei 2012. The products are also divided into three series to differentiate their performance - Premier, Premier Pro and XPG - consisting of those supporting the latest interface standards including SATA 3 6Gbps, SD 3.0, and etc.
Adata is also displaying its storage solutions for enterprise servers and industrial PCs, including those for web hosting data centers which are already shipping to enterprise customers.
A special focus on high-end products
While providing a full range of memory and storage devices, Adata is paying particular attention on enhancing its high-end product portfolio as part of its marketing strategy. The company is aware that building flagship products successfully could be a strategic move to well position the identity of company products.
High-end products don't necessarily make the largest contribution to Adata when it comes to sales volume. However, the company expects its high-end product portfolio to help create an image of Adata's products in the minds of consumers, which would have a positive effect on the company's other product segments.
Adata has long-term commitment to branding its products, and expanding the company customer base to include customers at the top of the market pyramid will always be a goal. The company will continue developing its feature-rich and high-performance products designed to meet different customer needs.
Views on DRAM, NAND flash markets
The number of DRAM chipmakers is expected to be reduced to three from the current 4-5 makers, with the surviving companies no longer blindly expanding production capacity. The prospects for the DRAM industry are actually positive.
Since 2012, DRAM prices have risen at a slow pace. Prices should continue their gradual recovery and are likely to see bigger increases later in 2012.
As for NAND flash, prices have been negatively affected by suppliers' output ramp-ups as a result of their process technology transitions. However, prices are expected to become more stable in the third quarter when end-market demand picks up.
Overall market conditions in 2012 should be better than last year despite ongoing concerns about the European crisis and other unfavorable macroeconomic influences. Moreover, the forthcoming Microsoft Windows 8 launch is expected to trigger a round of PC replacement and make a positive contribution to the memory industry.
Adata over the next five years
ADATA in the past positioned itself as a dedicated DRAM company. In recent years, the company has been expanding its product mix. Sales of DRAM modules now account for only 40% of Adata's overall revenues, and the proportion is set to continue shrinking.
With plans to expand its exposure in all market segments and become a one-stop shop for memory and storage solutions, Adata aims to be a total storage solutions company over the next five years.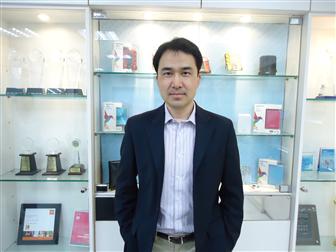 Andy Chang, VP of Adata's channel business division
Photo: Jessie Shen, Digitimes, May 2012