GigaFast introduces industry leading Nano line of HomePlug Adapters at CES 2012
Press release
GigaFast E Ltd, a manufacturer of HomePlug power line communications (PLC) equipment, has expanded its nano product line for 2012. The only manufacturer focused on delivering OEM/ODM customers a full line of PLC products, GigaFast branched out in every HomePlug product segment with all new product offerings from every HomePlug chipset provider including Atheros, Broadcom, and Sigma.
For the 2012 CES GigaFast is unveiling a new PN (Powerline Nano) line of HomePlug products. The product line features an all new industrial designed theme focusing on industry leading nano-size housings, low cost to build, and strong visual appeal. The PN product line includes the world's smallest designs using 200Mbps and 500Mbps HomePlug chipsets from Broadcom and Qualcom Atheros.
The PN928-EBg uses the all new Broadcom BR60321 chipset with GigaFasts improved power supply designs to achieve a form factor of only 6.4x4.6x2.4 cm. The use of nano design technology makes this the smallest 200Mbps HomePlug Adapter available. In addition to decreased size, the new PN928-EBg power supply design increases efficiency and decreases power consumption without sacrificing performance. All these improvements are built on top of the newest performance leading 200Mbps BR60321 chipset from Broadcom.
GigaFast is also introducing their latest 500Mbps HomePlug AV nano product, the PN958-EB2. This 500Mbps HomePlug AV product uses the latest and greatest AR7420 chipset from Qualcomm Atheros. GigaFast was able to cram the high performance AR7420 500Mbps HomePlug AV chipset with a 10/100Mbps Ethernet Port into the same nano form factor as the PN928-EB measuring only 6.4x4.6x2.4 cm. The all new PN928-EB2 provides 500Mbps performance with lower power and a smaller form factor than any other 500mbps HomePlug AV product before it.
Both the PN928-EB and PN958-EB2 are available today in world wide voltages and plugs. Customers are welcome to visit GigaFast' website at www.gigafast.com
GigaFast and HomePlug
We believe it is about time consumers get spoiled with a technology as easy as plug and play, and eliminating the hassle of pulling wires. Compared to wireless network, PLC is much more secure and covers more distance. After all, most consumer electronic devices already plug into power outlets, so why not make the existing wires and plugs do more than just providing power. Make the plugs talk, sing, view, and protect each other is what we do at GigaFast. Our complete line of PLC products can do all that through data, audio, video, and security applications.
GigaFast is a OEM/ODM manufacturer building power line communications products to customer specifications. There are a number of methods for communicating over the power lines, but of all the methods, HomePlug is the one clear standard today. This has encouraged GigaFast to join and take an active roll in marketing HomePlug Association as the standard in PLC communications today.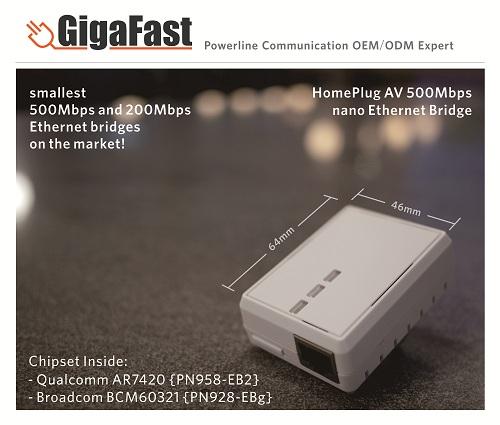 The all new PN928-EB2 provides 500Mbps performance with lower power and a smaller form factor than any other 500mbps HomePlug AV product before it.
DIGITIMES' editorial team was not involved in the creation or production of this content. Companies looking to contribute commercial news or press releases are welcome to contact us.