China market: Epson targets 2011 projector shipments to reach 200,000 units
Siu Han, Taipei; Joy Wan, DIGITIMES
The projector market in China has been growing relatively rapidly compared to the global market. Hence, many firms have been targeting the market in China. Japan-based Epson has been expanding retail stores in more than 1,000 locations. Epson's projector shipments in 2011 are targeted to reach 200,000 units, making it the leading projector brand in China.
China's projector market is expected to reach 1.2-1.3 million units in 2011, rising from around one million units in 2010, according to market sources. There are 48 vendors competing in the local market, with Epson and Hitachi taking the lead.
Suppliers, including Epson, Hitachi, Vivitek, Optoma, and the China-based Acto, have targeted the education sector, which accounts for 4% of China's GDP every year, sources said.
Epson won a bid in second-quarter 2011 to supply 6,000 projectors for educational purposes in Guangxi province, sources said. Vivitek supplied 5,000 units of projectors in the same bid.
Epson said the company is expected to take up 15-16% of the projector market in China in 2011, with target shipments of 200,000 units compared with 130,000 units in 2010.
Epson said it is also cultivating China's projector market for home entertainment. The vendor set up over 1,000 distribution channels throughout China in first-half 2011 for the sale of home projectors. Epson projectors for homes take up about 24.5% of China's home projector market, the company said. Epson expects its home projector sales to reach a target of 10,000-15,000 units a year in China.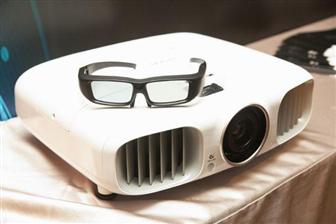 Epson projectors.
Photo: Michael Lee, Digitimes, October 2011