Taipei, Taiwan, 31 May 2011 - Memoright, an innovative maker of SSDs, today announced a 800GB 2.5" SSD at Computex Taipei 2011 (31 May - 4 June 2011, Booth No. K709, Nangang Exhibition Hall), the in-house controller and firmware technology providing long life, high-capacity SSD solution.
High capacity SSD solution in slim form factor design
Memoright will be highlighting the first 800GB MLC SSD solution with 2.5" slim form factor design. The 800GB high capacity SSD is designed specifically for for large-scale users as in the digital cinema, military, professional media, cloud computing server/datacenter and networking with 100% constant speed and In-Drive UPS & Security Erase features. It provides outstanding performance (Seq. Read/Write: 220MB/220MB) for high storage applications which require the utmost reliability and performance.
Performance storage with SATA III interface FTM Plus SSD
Also at the booth Memoright will be showcasing its latest SATA III interface FTM Plus and the long-life Infinity series SSD products for commercial and consumer application and the IPC solution which delivers an outstanding balance of system performance and solid reliability.
The infinity series SSD is a perfect solution for HDD replacement which provides cost-effective SSD solution with longer lifespan than normal MLC based SSD products.
Besides, Memoright will display the military and industrial level ruggedized SSDs from the GTR, GTR II and GTR-P series. All three series meets both the U.S. MIL-STD-810F/G and the Chinese GJB standards which are the strictest sets of environmental tests which includes low pressure for altitude testing, exposure to wide temperature (both operating and in storage), humidity, fungus, salt fog (as a corrosion test), shock, vibration and so on. It's the best solution for military and high-end industrial application.
Based on the company's capability of developing customized software and firmware, Memoright's nand flash storage devices have won adoption by military users around the world. Memoright's SSDs for industrial control IPC solutions support 2.5", 1.8" and 1.2" form factors, and Disk on Module, SD and CF formats, as well as transmission interfaces of PATA/IDE, SATA, mSATA, eMMC and PCIE.
With proprietary core technologies, Memoright is capable of providing efficient and customized solutions & support to a large variety of applications and is proud of being able to provide a series of products meeting the strictest military standard of MIL-STD-810F/G which comprehends various extreme environmental tests.
To learn more about Memoright's latest ruggedized SSD solutions please stop by our booth (31 May - 4 June 2011, Booth No. K709, Nangang Exhibition Hall), or visit our website at: http://www.memoright.com/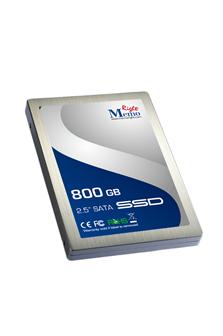 Memoright 800GB 2.5" SSD
Photo: Company