InnoDisk releases Actica Server Storage solutions; to be shown on 2011 COMPUTEX TAIPEI
Press release
InnoDisk Corp. just has merged and acquired Actica, a USA-based server DRAM vendor last month. By this acquisition, InnoDisk takes the advantage of it to extend its tentacles to server storage deeply. Since conditions are favorable, InnoDisk takes this opportunity to launch the server storage solution series- "Actica", including ECC Registered DIMM within very high performance and which is developed especially for server applications; PCIeDOM and SATADOM D150QV-L which are suitable for low profile server, such as 1U, and deliver excellent data transfer rate; E-class which are designed as enterprise SSD; and also Matador III, the PCIe SSD within ultra hi-speed and high density. Actica Server Storage Solution, especially designed for server applications, offers both DRAM and Flash products and all the solutions will be shown on 2011 COMPUTEX TAIPEI at InnoDisk booth (booth no: K630).
Actica ECC RDIMM is designed according to JEDEC standard to ensure the compatibility and reliability of DRAM, which supports high bandwidth up to 1.3Gbps and which is built-in thermal sensor to benefit module temperature management and to prevent any overheating. Actica ECC RDIMM each single DRAM can support up to 16GB. To take the the enterprise level of Intel Xeon 7500 series as an example, the total memory can boost up to 2 TB in an 8 socket system. Beneficially, with low power consumption, Actica ECC RDIMM is ideal for high performance computing (HPC), cloud computing and data center application as well.
Actica ECC RDIMM is a perfect DRAM module solution for applications, including Server, Enterprise server and workstation. For example, Actica DDR3 registered ECC is widely used on the Intel Xeon 5500 (Nehalm), 5600 (Westmere) and AMD Opteron 6100 (G34) series based server platform. Another illustration is that Actica DDR3 registered ECC memory provides high performance at 1333MHz speed and high capacity, up to 16GB, which is the best solution for workstations.
Matador III supports up to 1TB (MLC: 1TB, SLC: 512GB) and the read/write performance is up to 1.2GB/sec. and 1GB/sec. Targeting server storage applications, Matador, designed within LSA RAID controller, LSISAS2008, benefits the server system operate more efficiently by its super hi-speed transfer rate, high density and also low power consumption.
E-Class SSD (enterprise SSD) is designed within eMLC ICs and offers two interfaces: SAS and SATA. According to eMLC's program/erase cycle is more than that of normal MLC, E-Class SSD brings longer lifespan and better reliability. PCIeDOM II is with PCI Express Gen. 2 x1 disk on module and is designed especially for low-profile server which can efficiently avoid mechanical interference. Benefits from patented design, just plug and play, PCIeDOM is revolutionary product which has overthrown the limitation of PCIe connector layout on mother board from several decades ago. Additionally, PCIeDOM II brings extreme high transfer rate, IOPS up to 15000, which makes it more favorable. Similarly, SATADOM D150QV-L is another masterpiece for low profile server thanks to its compact size, low power consumption and also user friendliness. Benefits from own developed firmware and controller IC "ID 101", InnoDisk D150 SATA module is able to enhance the reliability and stability of the disk.
InnoDisk will attend 2011 COMPUTEX TAIPEI at Nangang TWTC 1F, you are welcome to join us to experience the most advanced server storage solution-Actica, industrial grade/wide temp. DRAM series, D150 SATA module series, industrial Panel and you can find out more storage solutions at InnoDisk's booth K630.
About InnoDisk
Founded in March 2005, with the long experience and profound knowledge in NAND flash memory, InnoDisk is capable of developing series of product with excellent quality, remarkable performance, and high reliability as well as cost effective. Focusing on the variety market demand, InnoDisk provides both consumer and industrial storage solutions, the company develops, manufactures and markets NAND flash storage products for a wide range of application platforms. InnoDisk commits to excellent achievement, higher standard of quality, and reliability as well as performance. With the dedicate service and professional, technical know-how, InnoDisk delivers the right solutions to your requirements.
Headquarter 9F, No. 100, Sec. 1 Xintai 5th Rd., Xizhi Dist., New Taipei City 221, Taiwan.
TEL: +886-2-26963000
FAX: +886-2-26962000
E-mail: sales@innodisk.com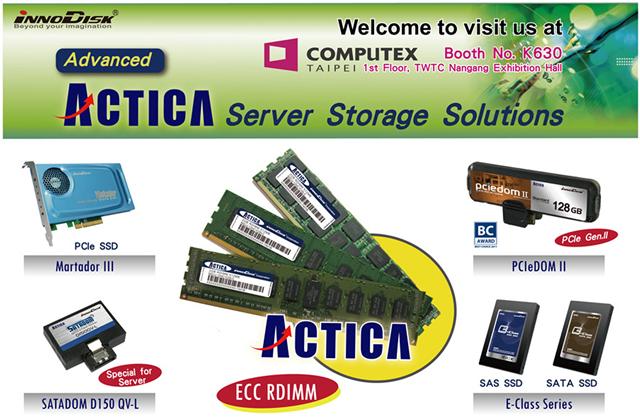 InnoDisk products
Photo: Company