Adata launches SATA 6Gb/s SSD
Press release
Adata Technology has announced the release of the S511 solid-state drive (SSD) which employs the latest SATA 6Gb/s specification to raise performance of the SSD over conventional SATA 3Gbps products.
The S511 utilizes the new generation SandForce SF-2200 series chip, with native support for the SATA 6Gb/s platform. Read and write speeds are twice that of SSDs using the older SATA2 specification, and in real world test simulations reach 550/520MB read and write speeds respectively, with 4K random write speeds as high as 60,000 IOPS, the company claimed. For consumers, this means transferring 5GB media archives can be completed in as few as 15 seconds. In actual testing of Windows 7 boot speed, the S511 enabled a 25 second system boot time, according to the company.
Currently, the major processor platforms are gradually making the changeover to native SATA 6Gb/s chips. However, traditional mechanical drives are not capable of the corresponding high-speed read and write tasks. The result is that some newly-purchased computers can only utilize a fraction of the performance available when equipped with a traditional hard drive. The S511 SSD provides vibration-free running and low power consumption while taking full advantage of the 6Gb bandwidth transmission capability. In both desktop and notebook computers, and in a broad range of computing environments.
The S511 will be available in 60GB, 120GB, 240GB and 480GB capacities. The new drive is distributed through designated agents and resellers.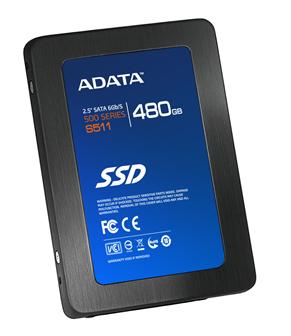 Adata S511
Photo: Company