Seiko Epson announces the launch of ACCP (Activity Capture & Computing Platform), the ACCP, that integrate various interfaces to enable connectivity with sensors such as inertia sensors, optical sensors and pressure sensors. The ACCP family is a specialized solution for motion sensing applications.
Seiko Epson has introduced the ACCP-1 (S1A20100) solution which features multiple functionalities including step counting, motion and motionless detection for equipment used in sports and fitness training. Consumers are able to collect their workout statistics, monitor changes in calorie consumption and measure workout time and distance. In particular, the solution consumes power as low as 75uA in operation mode and 25uA in standby mode. The power consumption is only one-third of those of competitors' products, reducing the frequency of replacing batteries.
Seiko Epson's ACCP-1 solution is targeted at sports applications for tracking athletes' body movements and locations, and their physical changes during a training session or race. K Usui, general manager for Seiko Epson, believes the solution is also the best choice for health care devices, particularly for those used to monitor the elderly people's daily care routines.
In addition, Usui revealed that the company is continuing to expand its portfolio of ACCP solutions. The coming ACCP-2 will incorporate a gyro sensor and ACCP-3 will feature pressure sensing capabilities. The ACCP-4 will combine GPS functions to expand its application.
Epson is mostly known for its dot matrix printers, inkjet printers, laser printers, digital cameras, digital photo frames, projectors and other digital imaging products. The parent company, the Seiko Group, was founded in 1881 as a manufacturer of wall clocks originally. Seiko Epson began to make watches in 1913, and has since stepped into the semiconductor and LCD panel markets.
Seiko produced the world's first portable quartz timer and was selected as the official timekeeper for the 1964 Summer Olympics. Over the years, Seiko Epson has remained focused on developing semiconductor- and imaging-related technologies, with aims to improve people's quality of life with sophisticated, high-tech products.
Usui indicated that the company has achieved outstanding results in the markets for semiconductors, quartz components and high-temperature polysilicon LCD panels with technologies highlighting their energy saving and high accuracy characteristics.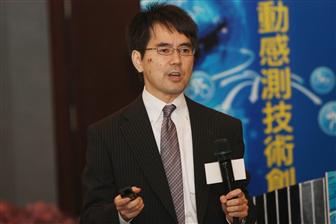 K Usui, general manager for Seiko Epson
Photo: Digitimes, September 2010