Asustek Computer has announced the launch of the Eee PC 1001PQ, a netbook designed to make it easy for pre-adolescents to learn and have fun, according to the company. The Intel Atom N450-powered 1001PQ comes with full PC functionality, and features a 10.1-inch LED-backlit display, Wi-Fi, and a built-in 0.3-megapixel camera.
The 1001PQ runs on Microsoft Windows 7 and features the preteen-friendly Inspirus Desktop. The latter is an icon-based interface designed to make it easy for pre-adolescents to have fun, learn, and communicate with friends and family, said Asustek.
On top of granting pre-adolescents net access, other widgets let users view photo albums, create presentations or draw pictures.
The Inspirus Desktop comes across as a simplified operating system with applications that have been designed to keep impressionable young minds away from objectionable material on the net, said Asustek.
The 1001PQ also features built-in parental controls that allow parents to choose the websites their children can visit, check their email contacts, and control the programs they can access.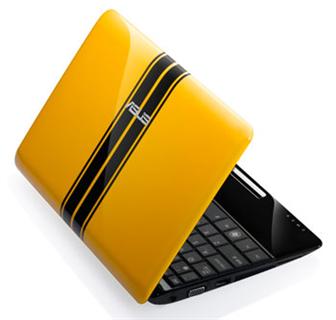 Asustek Eee PC 1001PQ netbook
Photo: Company