Computex 2010: Enermax touts power with style
Press release, staff reporter, DIGITIMES, Taipei
Power supply specialist Enermax will be celebrating its 20th anniversary at Computex Taipei 2010 and the company is thrilled to invite visitors to come see its full product lineups and latest exhibitions.
The company is renowned for its PRO87+ and MODU87+ power supply unit (PSU) series which the company says feature the highest certified efficiency available (91.7%) and are some of the most silent solutions on the market. These products will be on display at Computex, as will other products featuring the company's patented SpeedGuard fan control of only 330+ rpm, its new Revolution85+ PSU models, and prototypes of the upcoming 1kW class 87++ series delivering up to 1500W power.
However, the company indicated the PSU buzz at Computex will be for support of the latest generation graphics cards, which require two 8p PCI Express connectors due to a maximum power consumption of more than 300W. This requirement compromises more than 90% of all PSU's available, as they feature a 50-50 mix of 6p and 8p and not pure 8p, according to Enermax. Therefore, a 1000W class PSU with 6 PEGs in total, but still using a 50-50 mix cannot power two of these graphic cards.
Enermax said it is at the forefront of providing the increased support needed by the market and has readied a broad range of PSUs with 100% 6+2p (8p) connectors for maximum capability for running the latest graphics cards in multiple configurations.
In addition to PSUs, Enermax will be featuring its flagship keyboard, the Aurora Lite at Computex. The company has also updated its cooling pad range with the Aeolus Premium, which features a larger wrist rest, and the Aeolus N14, which is now available for netbooks and tablets. Enermax will also launch its big tower SpineRex and the mid tower Luxuray. Customers looking for the new Appolish Vegas and TB Silence fan solutions will be happy to see that the products are now available.
The current Apollish fan series is quite unique, since it uses patented technology to increase the LED number from the four commonly used per fan to up to 15. Enermax stated the patented "trick" is to not position the LEDs in the four corners of a fan's frame, but within the blade frame as an LED ring. Enermax has now increased the maximum number to 18 and added a plethora of LED modes. Seven modes let the fans flash partially or completely in different combinations by rotating LED beams and groups of beams. Apollish Vegas will replace Apollish in the company's lineup and it will include an external control for the LED modes.
The T.B. Silence series focuses on silence with an acoustic noise ranging from a very quiet 15dbA to only 11dbA on the 12cm model, and the company stated customers can expect an excellent price/performance ratio.
Both series utilize Enermax's patented Twister Bearing, a magnetic bearing type, which does not suffer from abrasion like mechanical bearings such as Sleeve or Ball-Bearings and has a lifetime of more than 100k hours.
Enermax will be exhibiting its products at Computex Taipei 2010 in the Nangang Hall, I 818.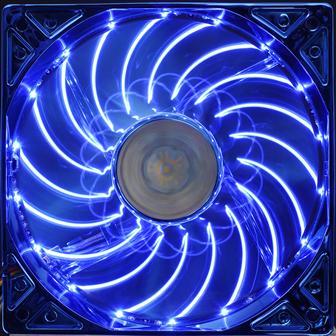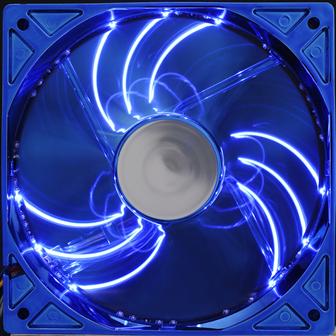 Enermax Apollish Vegas fan
Photo: Company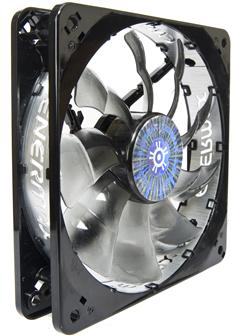 Enermax T.B. Silence fan
Photo: Company