Intel has launched its Xeon 5600 series processors that feature Intel's Advanced Encryption Standard New Instructions (Intel AES-NI), and Intel's Trusted Execution Technology (Intel TXT) - that enable faster encryption and decryption performance for more secure transactions and virtualized environments, providing data centers with a stronger foundation for cloud security.
These are also the first server and workstation chips based on Intel's 32nm logic technology, which uses the company's second-generation high-k metal gate transistors to increase speed and decrease energy consumption.
The Intel Xeon 5600 series processors support up to six cores per processor and deliver up to 60% higher performance than the 45nm Intel Xeon processor 5500 series, Intel noted.
Data centers can also benefit from the power efficiency of the Intel Xeon 5600 series as the series' Xeon L5640 processor can deliver the same performance as the Intel Xeon X5570 processor, which is the top-end model of the previous series, but with up to 30% lower platform power, Intel pointed out.
Intel's AES-NI technology is a new set of instructions that accelerate AES performance to enable faster data encryption and decryption for a wide range of applications such as database encryption features, full disk encryption and secure internet transactions.
Intel's TXT technology will provide added security that cloud environments have been waiting for by enabling a more secure platform launch environment, along with providing more protection for applications that move between virtualized servers. Hardware-based capabilities integrated into the processor shield against malicious software to allow important applications and data to run more securely in a virtualized environment.
The frequency-optimized quad-core version of the Intel Xeon 5600 series peaks at 3.46GHz with a TDP of 130 watts, while the six-core version reaches 3.33GHz with a TDP of 130 watts. Advanced six-core versions will top out at 2.93GHz and TDP of 95 watts, and the standard quad-core processor will reach 2.66GHz at 80 watts. Low voltage versions of the chip will have TDPs as low as 60 watts and 40 watts and feature six and four cores respectively.
Intel also announced the availability of the Intel Xeon processor L3406 series. Targeted for use in the single processor micro server segment, the Intel Xeon processor L3406 series has a TDP of only 30 watts, making it ideal for high-density form factors and power-sensitive environments.
In addition to enterprise-class processors, Intel also launched four unique processors for the embedded computing segment, including the first six-core processors, the Intel Xeon E5645 and L5638, the quad-core L5618 and E5620 processors. These processors, featuring 7-year lifecycle support, are built for thermally constrained and robust communications environments, and will route applications more quickly and efficiently between connected devices.
Intel also announced availability of the new Intel Core i7-980X Extreme Edition processor, the company's first 32nm, six-core processor with 12 computing threads for client applications. The new Intel Core i7-980X is drop-in compatible with most existing Intel X58 Express chipset-based motherboards. Running at 3.33GHz, the Intel Core i7-980X is overclocking-enabled to provide flexibility to advanced users who want to adjust their speed settings, and has 12MB of Intel Smart Cache - 50% more than the current Intel flagship desktop processor.
Intel server and six-core desktop CPUs specifications and price

CPU model

Frequency

Intel Smart Cache

TDP

Cores / Threads

1kU Price (US$)

Intel Xeon X5680

3.33GHz

12 MB

130W

6 / 12

1663

Intel Xeon X5677

3.46GHz

12 MB

130W

4 / 8

1663

Intel Xeon W3680

3.33GHz

12 MB

130W

6 / 12

999

Intel Xeon X5670

2.93GHz

12 MB

95W

6 / 12

1440

Intel Xeon X5667

3.06GHz

12 MB

95W

4 / 8

1440

Intel Xeon X5660

2.80GHz

12 MB

95W

6 / 12

1219

Intel Xeon X5650

2.66GHz

12 MB

95W

6 / 12

996

Intel Xeon E5640

2.66GHz

12 MB

80W

4 / 8

774

Intel Xeon E5630

2.53GHz

12 MB

80W

4 / 8

551

Intel Xeon E5620

2.40GHz

12 MB

80W

4 / 8

387

Intel Xeon E5507

2.26GHz

4 MB

80W

4 / 4

276

Intel Xeon E5506

2.13GHz

4 MB

80W

4 / 4

219

Intel Xeon E5503

2.00GHz

4 MB

80W

2 / 2

188

Intel Xeon L5640

2.26GHz

12 MB

60W

6 / 12

996

Intel Xeon L5630

2.13GHz

12 MB

40W

4 / 8

551

Intel Xeon L5609

1.86GHz

12 MB

40W

4 / 4

440

Intel Xeon E5645

2.40GHz

12 MB

80W

6 / 12

958

Intel Xeon L5638

2.00GHz

12 MB

60W

6 / 12

958

Intel Xeon L5618

1.86GHz

12 MB

40W

4 / 8

530

Intel Xeon L3406

2.26GHz

4MB

30W

2 / 4

189

Intel Core i7-980X Extreme Edition

3.33GHz

12 MB

130W

6 / 12

999
Source: Company, compiled by Digitimes, March 2010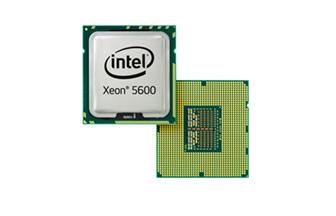 Intel Xeon 5600 series server processor
Photo: Company