VIA Technologies has introduced its new VIA Nano 3000 series processors, bringing digital media performance and low power consumption to Windows 7-based ultra-thin notebook and all-in-one desktop PC markets. Based on the 64-bit superscalar Isaiah architecture, VIA Nano 3000 series processors support playback of high bit-rate 1080p HD video, while delivering low power consumption resulting in longer battery life.
With a host of advanced features including 64-bit support, advanced CPU virtualization technology, SSE4 for enhanced multimedia processing, and encryption and security capabilities integrated in the VIA PadLock Security Engine, VIA Nano 3000 series processors also provide a solution for emerging cloud-based computing environments.
Available at speeds from 1.0GHz to 2.0GHz, VIA Nano 3000 series processors deliver up to 20% higher performance using up to 20% less power than current VIA Nano processors and boasts VIA VT virtualization technology.
VIA Nano 3000 series processor samples are currently available for OEMs and motherboard vendors, and will enter mass production in the first quarter of 2010.
VIA Nano 3000 series CPU specifications

Model

Speed

VIA V4 FSB

Idle Power

L3100

2.0GHz

800MHz

500mW

L3050

1.8GHz

800MHz

500mW

U3200

1.4GHz

800MHz

100mW

U3100

1.3+GHz

800MHz

100mW

U3300

1.2GHz

800MHz

100mW

U3500

1.0GHz

800MHz

100mW
Sources: Company, compiled by Digitimes, November 2009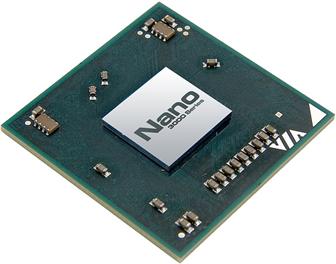 VIA Nano 3000 series CPU
Photo: Company