SanDisk shipping memory cards with 64Gb X4 flash chips
Press release; Jessie Shen, DIGITIMES
SanDisk has announced it is shipping flash memory cards based on the company's dubbed X4 flash memory technology, which holds four bits of data in each memory cell. The technology is currently being used in SDHC cards and Memory Stick PRO Duo cards starting with 8GB and 16GB capacities.
SanDisk said the storage cards incorporating its X4 chips that store 64 gigabits (64Gb) of data deliver twice the capacity of most conventional chips that store one or two bits per cell. The chips made by Toshiba using 43nm process technology, which helps lower manufacturing costs.
Despite the higher the density per chip and the more bits per cell, SanDisk said the new 4-bit cards are capable of maintaining data reliability.
"Our challenge with X4 technology was to not only deliver the lower costs inherent to 4-bits-per-cell but to do so while meeting the reliability and performance requirements of industry standard cards," said Sanjay Mehrotra, president and COO of SanDisk.
Volume shipments of SanDisk's first products based on the 64Gb X4 NAND flash chips kicked off in September 2009, according the company.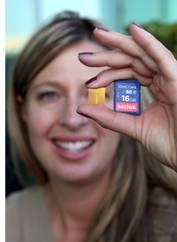 SanDisk X4 chip
Photo: Company