Acer last week acted quickly to reiterate that it will launch its first dual-OS netbook with both Windows XP and Android in September 2009 as scheduled, following claims by industry sources that it might delay the launch.
During Computex 2009 in June, where Acer showcased the dual-OS netbook, the vendor indicated that the netbook launch would come in the third quarter. And sources with Acer indicated that it could be as early as July.
As the end of July was approaching, retail channel players indicated that Acer was mulling a delay in the launch because of lackluster demand for Android. After the news of a possible delay broke, Acer reiterated that the dual-OS netbook will be launched as scheduled in September - which falls within the third-quarter time frame.
The netbook may be officially launched in September, but it remains to be seen whether it will be available on the market next month. Channel players expect the netbooks to be shipped in October.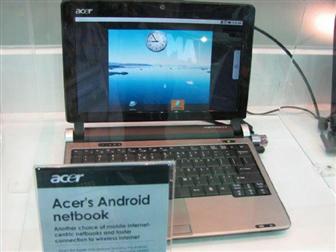 Acer's dual-OS netbook
Photo: Yen-Shyang Hwang, Digitimes, June 2009