Cybernet Manufacturing and its subsidiary Space Technology have announced the availability of the next-generation all-in-one LCD PCs, the new iOne series. The company will be exhibiting the new iOne series, including one model (A330) featuring the Intel Atom low-power CPU, at its booth in the Nankang Hall (4F, L1113/L1115) during Computex Taipei 2009.
While all-in-one PCs are a new trend, Cybernet has over 12 years of experience in all-in-one PC design and the company noted that it has the know-how and skills to create products for the business community.
"We are very proud to be at the forefront of PC evolution, packing so much power and versatility inside an LCD monitor and having it at the users' fingertip. These devices save energy, and the space savings they provide also allows users to freely move about their desk," said Hossein Asadi, CEO of Cybernet, which focuses on a B2B business mode
Asadi added that Cybernet was the first company in Taiwan to introduce an all-in-one PC in 2005 and since then, many other Taiwan companies have joined this market segment and have lately introduced new products to the market. However, Cybernet has been designing and developing this technology longer than any of the others, Asadi pointed out.
The sizes and formats in the new iOne series all-in-one PCs that the company plans to introduce include a 17-inch display with a 4:3 screen ratio, an 18.5-inch screen with a 16:9 ratio, an 18-inch screen with a 4:3 ratio and a 20-inch model with a 16:9 ratio. Hardware features also include a choice of Intel Core2 Quad series processors, up to 4GB DDR2/667MHz DRAM, SATA hard drives up to 1TB, optional DVD +/-RW, 1G Ethernet, optional internal 802.11g and touchscreen options. The series is also Energy Star 4.0 compliant, according to the company.
Another all-in-one PC from Cybernet is the new ZPC-GX31 keyboard PC. That system is built into a keyboard and features an Intel Core 2 Quad processor.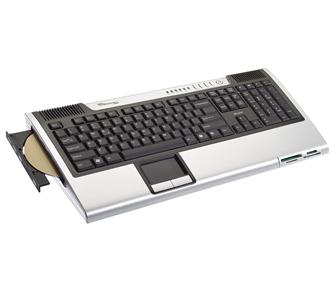 Cybernet ZPC-GX31 keyboard PC
Photo: Company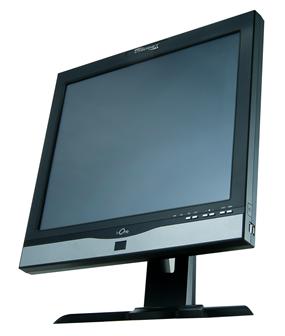 Cybernet iOne-GX31 all-in-one PC
Photo: Company