Transcend Information has debuted its brand-new PF730 digital photo frame and two digital music players, along with a new line of 2.5-inch SATA SSDs equipped with 64MB DRAM buffer. Transcend intends to show its dedication to being a specialist in the consumer electronics industry, while continuing to strengthen its core memory business, according to the company.
Transcend's strategic products, which include digital photo frames, external hard drives and digital music players, began making a solid contribution to its overall revenues in the latter half of 2008.
Transcend's PF730 digital photo frame has a 800×600 photo-friendly 4:3 screen and selectable color modes. It comes with 2GB of internal flash memory, and is also equipped with an MP3 player.
The new MP860 digital music player is equipped with a 2.4-inch full color screen (240×320), and features enhanced sound quality with support for newer file formats such as FLAC and OGG, according to Transcend. The MP860 also comes with up to 8GB of built-in memory, and features a convenient microSD/microSDHC expansion slot.
Transcend's compact and lightweight MP320R has a dual-color OLED screen, and has a built-in USB connector for data transfer.
Transcend also announced the availability of 2.5-inch SATA 3Gb/s SSDs equipped with 64MB DRAM buffer. Available in 60GB and 120GB capacities, the drives are capable of 230MB/s read and 180MB/s write speeds.
Along with the new products, Transcend is also showcasing its recently-announced aXeRam DDR3-1800 memory kits, 192GB SATA SSD as well as StoreJet 25M and 25C hard drives.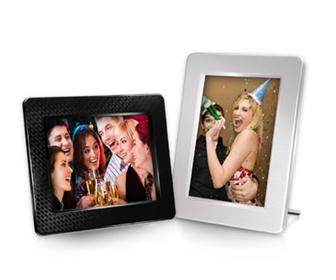 Transcend 7-inch PF730 digital photo frame
Photo: Company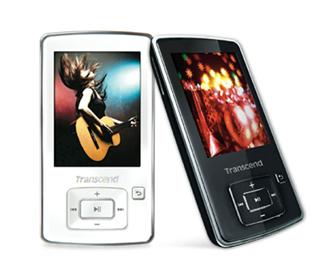 Transcend MP860 digital music player
Photo: Company