VIA Nano CPU adopted by Dell in server
Press release, May 20; Joseph Tsai, DIGITIMES
VIA Technologies has announced the adoption of its Nano processor platform in the latest high-density server product from Dell's Data Center Solutions Division. The XS11-VX8 is an ultra-light server designed for hyper-scale data center environments that can take advantage of the unique power and performance efficiency of the VIA Nano processor.
The XS11-VX8 server addresses the need in environments like Web hosting, Web farms and light load infrastructures for a high density, low power and ultra-light server product, said VIA.
The VIA Nano-powered XS11-VX8 is housed with 12 systems in a 2U chassis that offers up to 34% lower TCO compared to the use of white-box client systems, said VIA. The XS11-VX8 is designed for single server workloads where overall power consumption needs to be less than 30W per system.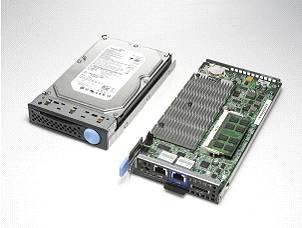 Dell XS11-VX8 server has a similar form factor as an HDD
Photo: Company