VIA Technologies announced the Epia N700 Nano-ITX board, designed as a complete solution for compact industrial PC and embedded automation devices. Featuring a 1.5GHz VIA C7 or 500MHz VIA Eden processor, the VIA Epia N700 is the first Nano-ITX board to feature the latest VIA VX800 media system processor, offering system designers a balance of miniaturization and uncompromising functionality.
The VIA Epia N700 uses additional onboard ports to make system design of compact PCs easier; two S-ATA ports, a Gigabit LAN port, a COM port, two USB 2.0 ports and a VGA port are provided, with additional COM, LVDS and IDE support available through onboard pin-headers. With the VX800 offering an integrated DirectX 9 graphics core and excellent hardware accelerated video playback, this compact, low heat, power-efficient board is the ultimate solution for designing low heat, compact systems.
The addition of onboard VGA, USB, COM and Gigabit network ports on this compact board helps to reduce cluttered cabling, adding improved air-flow for enhanced stability in always-on systems and a further reduced system foot-print. The VIA Epia N700 requires only a single 4-pin power cable, which can save space, while the external CMOS battery allows flexible, efficient placement within the chassis.
The VIA Epia N700 is equipped with the latest VIA VX800 media system processor, an all-in-one, highly integrated digital media IGP (integrated graphics processor) chipset featuring the latest video, graphics and connectivity performance in a single chip. Measuring just 33x33mm, the VIA VX800 features an integrated VIA Chrome 9 graphics core with full DirectX 9 support and the VIA Chromotion video engine.
Security can be augmented by enabling the VIA PadLock Security Engine, a hardware based security technology that provides the latest military-grade encryption and protection with the world's fastest x86 security engine.
The VIA Epia N700 board is available now for developers, and will be available through authorized distributors by mid-September.
VIA EPIA N700 Nano-ITX board specifications

Item

Detail

Model

VIA Epia N700-15
VIA Epia N700-05E

Processor

1.5GHz VIA C7 processor
500MHz VIA Eden ULV processor

Chipset

VIA VX800 unified digital media IGP chipset

System memory

1 x DDR2 533/667 SODIMM socket
Up to 2GB memory size

VGA

Integrated VIA Chrome 9

Expansion slots

1 x Mini PCI slot

Onboard IDE

1 x UltraDMA 133/100/66/33 pin header (2.0mm/44P)

Onboard LAN

1 x VIA VT6130 PCIe Gigabit Ethernet controller

Onboard audio

1 x VIA VT1708B high definition audio codec

Onboard I/O connectors

3 x serial port headers (RS-232) with one 5V/12V select jumper
2 x SATA port connectors
2 x fan connectors for CPU and system fans
1 x USB pin header for 2 additional USB 2.0 ports
1 x LVDS connector, for 24-bit dual channel LVDS panel
1 x backlight control connector for inverter power and brightness control
1 x CF (Compact Flash) type I connector (shared with IDE)
1 x SMBus pin header
1 x SPI pin header
1 x digital I/O pin header
1 x KB/MS pin header
1 x front audio pin header
1 x front panel pin header
1 x system temperature reading pin header
2 x +5V power header for 2.5'' SATA HDD
1 x +12V power connector
1 x power mode select connector

Back panel I/O

1 x serial port with RS232/422/485 support
1 x VGA port
1 x RJ-45 LAN port
2 x USB 2.0 ports

Operating system

Windows XP, Linux, Win CE, XPe

System monitoring & management

CPU voltage monitoring, system temperature reading, fan speed monitor
wake-on LAN, keyboard power-on, timer power-on, watch dog timer
system power management, AC power failure recovery

Form factor

Nano-ITX (12 cm x 12 cm)
Source: Company, compiled by Digitimes, August 2008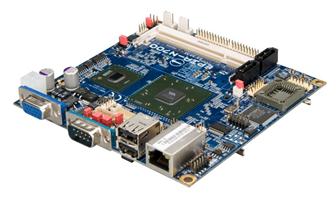 VIA Epia N700 Nano-ITX board
Photo: Company