Taiwan-based notebook makers, including Micro-Star International (MSI), Gigabyte Technology, Elitegroup Computer Systems (ECS), Acer, GeCube, Dialogue Technology and Asustek Computer are showcasing several new notebooks at Computex 2008.
MSI unveiled its 10-inch Wind series low-cost notebook (netbook) at the show, but not the previously reported 8.9-inch version. Representatives from the company explained that due to shortages of Intel's Atom processors, the company plans to focus on pushing the 10-inch model because most of the other players in the market do not yet have comparable models.
MSI also plans to offer a line of accessories to accompany the Wind, including an external DVD drive and an external hard drive enclosure.
MSI also showcased its Wind PC, a low-cost desktop (nettop) also adopting Intel's Atom processors. The system features a DVD drive, card reader and 160GB hard drive. The PC's chassis and panel can be available in a range of colors, however MSI said it will mainly focus this service to ODM customers.
Finally, for the traditional notebook market, MSI showed a high-end 17-inch Centrino 2-based notebook, the GX720, which features an Nvidia GeForce 9600M graphics card and Dolby Home Theater technology for entertainment.
While most companies are positioning their netbook devices based on price, Gigabyte's M912X differentiates itself from the crowd by offering more advanced features including a rotatable 8.9-inch touch panel display – allowing the device to be used as a tablet PC – and an ExpressCard expansion slot, ideal, the company points out, for a 3G wireless adapter.
The M912X includes the Atom N230 processor at 1.6GHz, up to 1GB memory and a 2.5-inch HDD up to 250GB. Gigabyte representatives said the M912X is expected to become available in Taiwan in July and the US in August priced around US$700, slightly more than similar size products from other makers, but its unique feature set may make the additional cost worthwhile for some customers.
Gigabyte also unveiled the M528, one of the first Mobile Internet Devices (MIDs) based on the Centrino Atom (Menlow) platform. The M528 measures just 152×80×22.5mm, has an Atom processor running at 800MHz, 512MB memory and 4GB of storage. Input is available via either the 800×480 touch panel or slide-out 47-key keyboard. Gigabyte will ship the M528 with a customized Linux-based operating system.
ECS this year has showcased the first generation Intel Classmate PC and the S21II Centrino 2-based notebook. Company representatives noted that since second generation Classmate PCs will not launch until later, the company will not be showing any related products at Computex.
Acer is showcasing a series of Centrino 2-based TravelMate notebooks, including the 6293 with built-in GMA 4500MHD graphics, the 5730, featuring an ATI Radeon HD3470 discrete mobile graphics card and Blu-ray drive, and the 6493 which comes with a Radeon HD 3470 graphics card and WiMAX module.
Acer's just announced 8.9-inch Aspire one netbook is also on display.
Graphics card maker GeCube is showcasing a self-designed 10-inch netbook, the Genie SR, based on VIA's C7-M CPU. The device also features 512MB DDR2 memory and uses the built-in UniChrome Pro 2 for graphics. GeCube representatives said the company plans to sell the product to both OEMs and under its own brand.
For users looking for a system offering higher-performance, but at the same time carrying a higher price tag than the Gigabyte M912X, Taiwan-based Dialogue Technology is showing its Flybook V5 mini-notebook which adopts Intel's Centrino (Napa Refresh) platform and a rotateable 8.9-inch touch panel. Representatives from the company noted that this PC will be priced at around US$2,500.
Finally, in addition to three new Eee PCs, Asustek also introduced its Eee Box nettop which offers similar features to MSI's Wind PC but is much smaller due to the company's decision not to include an optical drive.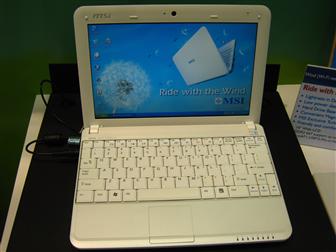 MSI 10-inch Wind Notebook
Photo: Joseph Tsai, Digitimes, June 2008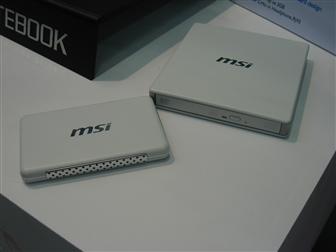 MSI Wind Notebook accessories including a DVD drive and a hard drive enclosure
Photo: Joseph Tsai, Digitimes, June 2008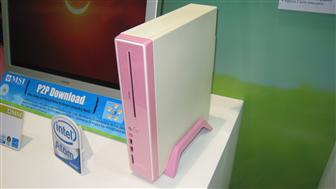 MSI Wind PC
Photo: Joseph Tsai, Digitimes, June 2008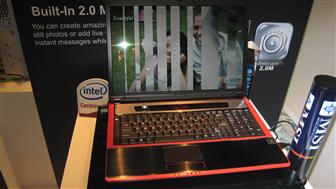 MSI 17-inch GX720 notebook based on Centrino 2 platform
Photo: Joseph Tsai, Digitimes, June 2008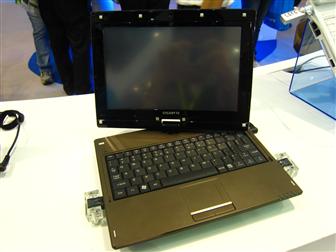 Gigabyte 8.9-inch M912X low-cost notebook
Photo: Joseph Tsai, Digitimes, June 2008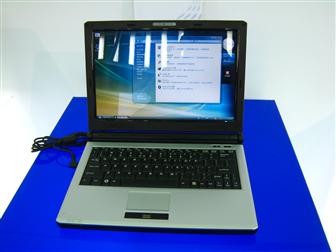 ECS 12.1-inch S21II notebook based on Centrino 2 platform
Photo: Joseph Tsai, Digitimes, June 2008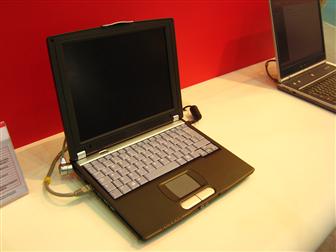 GeCube 10-inch Genie SR low-cost notebook
Photo: Joseph Tsai, Digitimes, June 2008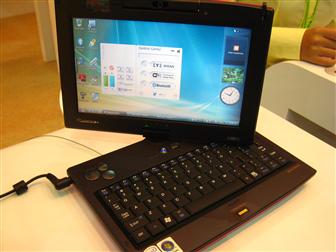 Flybook 8.9-inch V5 mini-notebook
Photo: Joseph Tsai, Digitimes, June 2008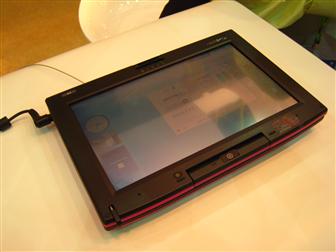 Flybook 8.9-inch V5 mini-notebook in tablet PC form
Photo: Joseph Tsai, Digitimes, June 2008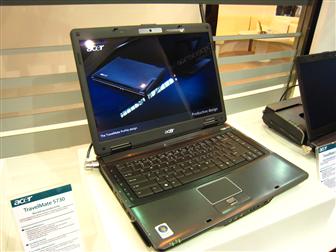 Acer TravelMate 5730 based on Centrino 2 platform
Photo: Joseph Tsai, Digitimes, June 2008