SanDisk has introduced a line of flash memory-based solid-state drives (SSDs) that are designed for ultra low-cost PCs. The SSD is expected to be available in August.
The new SSD is built on both multi-level cell (MLC) and single-level cell (SLC) NAND flash from SanDisk, which is produced at its plant at Yokkaichi, Japan. Memory densities from 4GB to 16GB are available. The SSD delivers a streaming read speed of 39MB/s and a write performance of 17MB/s and supports the parallel ATA (PATA) interface, SanDisk detailed.
SanDisk noted that low-cost PCs have caught on with adults, with manufacturers rolling out devices that are designed for general consumer use.
SanDisk is exhibiting its SSD at the TWTC Nangang Exhibition Hall, booth M320.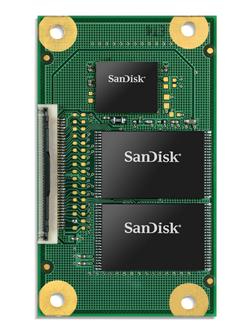 The new SSD from SanDisk is designed for low-cost PCs
Photo: Company