Kingmax Group is marking its presence at Computex Taipei 2008 by unveiling its first SSD lineup, as well as showcasing memory module and NAND flash applications that offer increased functionality and support higher memory densities.
Channel demand for SSD to emerge in 2H08
Foremost among the latest offerings is the company's SSDs. The company is introducing its SSDs in two form factors –ExpressCard and SATA drive formats. Maximum memory density for both the ExpressCard and 1.8-inch SATA drives is 64GB, with the 2.5-inch SATA drive version supporting a maximum density up to 128GB.
All SSDs displayed by the company are equipped with NAND flash chips fabricated under 50nm. The company also aims to employ 40nm NAND flash in its SSD lineup once the technology matures, said Kingmax Digital president Lawrence Chang. Most of the chips that are equipped in the SSDs will be supplied by Samsung Electronics, Hynix Semiconductor and Micron Technology, the company stated.
SSD in ExpressCard form are designed for upgrade purposes, as the device can easily plug into existing ExpressCard slots in notebooks. Chang anticipates that demand for SSDs in ExpressCard form will start picking up in the second half of 2008 in the channel.
Memory card: More and more density
In addition to SSDs, Kingmax is also featuring an 8GB microSDHC card, produced using die stacking and package-in-package (PIP) technology. The card is connectable with an adapter and compatible with general SD application products. Chang stressed that SDHC, or microSDHC, has already gained a strong penetration in consumer electronics and that consistent memory upgrade is necessary. For the SuperStick memory card, Kingmax has boosted the memory density to 8GB this year.
Despite the memory card market facing uncertainty, the migration to DDR3 is well under way. Kingmax is featuring DDDR3-1600 and DDR3-2000 memory modules at Computex. Kingmax noted that the modules are not prototypes and are available for sale in the channel.
Kingmax is featuring all these products and more at its booth at TWTC Nangang Exhibition Hall, J0506.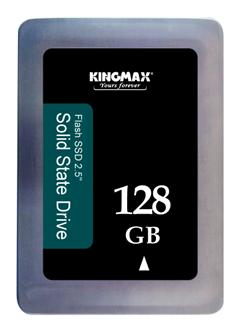 Kingmax 128GB SSD
Photo: Company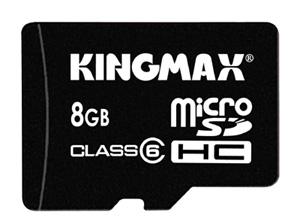 Kingmax 8GB microSDHC memory card
Photo: Company