Asustek Computer has announced the DSEB-D16 series server board, a 45nm Intel Xeon 5400/5200 processor ready platform, which the company claims is capable of 90%+ power efficiency.
The DSEB-D16/SAS optimizes power efficiency by up to 90%, enabling power savings of around 1.68KWh per day and 613.2KWh per year. This would provide a significant reduction of the TCO (Total Cost of Ownership), especially for enterprises deploying numerous server systems to provide non-stop services, said the company.
The 16 FB-DIMM slots in the DSEB-D16/SAS provide up to 64GB memory capacity and are divided into two zones (8-DIMM per zone) to enable better airflow.
The optional Asustek patented MemCool Kit maximizes FB-DIMM performance by eliminating the potential risk of system memory throttling from over-temperature, and minimizes system integration effort of thermal and acoustic solutions, said Asustek.
The DSEB-D16/SAS also provides two PCI Express 2.0 x16 slots, one PCI Express x8 slot, and one PCI-X interface for advanced hardware RAID upgrades, the company highlighted.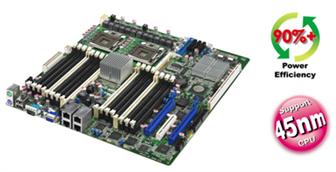 Asustek Computer DSEB-D16 series server motherboard
Photo: Company