Asustek has released the P5E WS Professional and P5E3 WS Professional workstation motherboards with multiple high speed I/O interfaces including dual PCI Express (PCIe) 2.0 and PCI-X slots.
The multiple slot interfaces increase expansion choices and allow users to obtain high data transmission speeds, highlighted Asustek. PCIe 2.0 x16 offers double the bus bandwidth of PCIe, from 2.5Gb/s to 5.0Gb/s. The P5E workstation series also showcases PCI-X slots for more convenience on slot expansion, and is able to bring about full speeds for Gigabit Ethernet, SCSI RAID and other PCI-X devices, claimed Asustek.
Asustek's Super Memspeed technology, found on the P5E3 WS Pro, enables users with the ability to achieve enhanced overclocking by providing precise overclocking options and calculating the most accurate FSB/DRAM frequency proportions to boost memory speeds up to 72% on DDR3 memory, according to the motherboard maker.
The P5E workstation series also provides several integrated features like AI Slot Detector, AI Gear 2 and AI Nap.
Asustek P5E series motherboard specification

Model

P5E WS Professional

P5E3 WS Professional

CPU

Supports Intel Core 2 Duo, Core 2 Quad, Pentium D, Pentium 4, Celeron and upcoming 45nm processors

Chipset

North Bridge: Intel X38

South Bridge: Intel ICH9R

System Bus FSB

1333/1066/800MHz

Memory

Dual-channel DDR2 1200, 1066, 800 and 667MHz memory up to 8GB

Dual-channel DDR3 1800, 1600, 1333, 1066 and 800MHz memory up to 8GB

Audio

RealTek ALC888, 8-channel Azalia Audio codec

ADI 1988B, 8-channel Azalia Audio codec
Source: Company, compiled by Digitimes, October 2007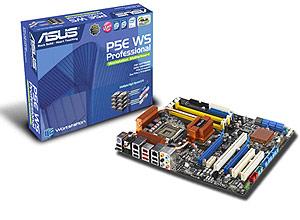 Asustek P5E series motherboard
Photo: Company