Hewlett-Packard (HP) on August 30 launched a series of high-end notebook PCs in Taiwan, targeting the business segment. The newly launched models include the 17-inch HP Compaq 8710w mobile station and the 12-inch LED backlight HP Compaq 2710p tablet notebook.
HP is also considering introducing 20-inch consumer notebooks in the Taiwan market by the end of this year, indicated sources at HP Taiwan.
With demand for business notebooks in Taiwan expected to pick up strongly in the September-November period, HP sees there is potential for large-size and tablet models, said Dennis Chen, general manager of HP Taiwan's personal systems group.
Sales of HP business notebooks in Taiwan grew by 80% on year in the first half of this year, and the company is aiming to have a 100% on-year growth in the second half, stated Chen.
Overall, the business notebook segment in Taiwan increased by 10% on year in the second quarter, Chen added.
In the Taiwan market, HP has outperformed Lenovo to become the number three vendor of business notebooks since the first quarter of this year, trailing only after Asustek Computer and Acer, Chen claimed.
The HP Compaq 2710p carries a suggested retail price of NT$66,900 (US$2,021), while the HP Compaq 8710w is priced at NT$99,900 (US$3,018).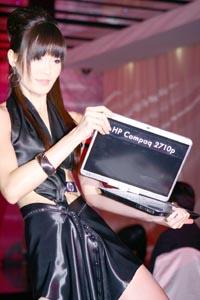 HP's Compaq 2710p tablet notebook
Photo: John Hsu, Digitimes