Biostar announced the launch of its Sigma Gate V8603TS51 graphics card, featuring the Nvidia GeForce 8600GTS graphics processor.
The Sigma Gate V8603TS51 supports the Microsoft Windows Vista operating system and DirectX 10 applications. Biostar has packaged the V8603TS51 with 512MB of DDR3 memory onboard, something the company claims is the first for a GeForce 8600GTS card.
The SLI-supporting card's built-in PureVideo HD processor allows users to watch Blu-ray or HD DVD movies, according to Biostar.
According to Biostar, the Sigma Gate V8603TS51 will have a recommended retail price of US$240 and will be available in North America by the end of June and in Europe by early July.
Specifications of the Sigma Gate V8603TS51

Item

Details

GPU

Nvidia GeForce 8600GTS

Engine clock speed

675MHz

Memory type

DDR3

Memory size

512MB

Memory clock speed

2000MHz

Memory interface

128bit

Interface

PCIe x16

Dual RAMDACs

400MHz

DVI

Dual

HDTV

Yes

HDCP

Yes

SLI

Yes
Source: Company, compiled by Digitimes, June 2007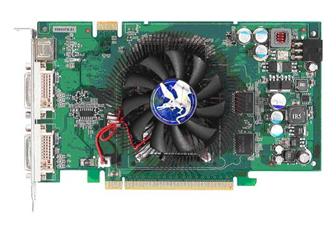 The Biostar Sigma Gate V8603TS51 graphics card featuring the Nvidia GeForce 8600GTS graphics processor
Photo: Company