VIA Technologies announced its new NanoBook UMD (ultra-mobile device) at Computex Taipei 2007, which, according to the company, packs the performance, connectivity and functionality of a notebook PC into a sleek and light ultra-portable clamshell form factor that weighs less than 850g.
The VIA NanoBook is powered by the ultra-low-voltage 1.2GHz VIA C7-M processor and delivers up to five hours of battery life. Powered by a choice of Microsoft Windows XP or Vista Basic operating systems, it comes with features including a full keyboard, a 7-inch WVGA screen with touch panel, up to 1GB DDR2 SDRAM, and a minimum 30GB hard disk drive (HDD). The NanoBook also supports 802.11g Wi-Fi, Bluetooth and Ethernet connectivity, plus a DVI and two USB 2.0 ports, noted sources at VIA.
The VIA NanoBook has been designed and manufactured in collaboration with First International Computer (FIC) and is scheduled to mass produce in the second half of 2007. Currently, VIA has received orders from Europe-based Packard Bell, added the sources.
With CPU makers all aiming for the low-price PC market, Wen-chi Chen, CEO and president of VIA pointed out that low-price PCs not only need to have advantages in their pricing, but also benefits to the environment. VIA's C7 series processors all adopt a green action strategy, which separates the company from its competitors, according to Chen.
In additional news, VIA's May 2007 revenues reached NT$1.68 billion (US$50.8 million), an increase of 3.21% compared to NT$1.62 billion in May 2006 and an increase of 12.9% over April 2007. Accumulated revenues for the first five months of 2007 were NT$7.04 billion, a decrease of 38.85% over the same period in 2006, according to sources at VIA.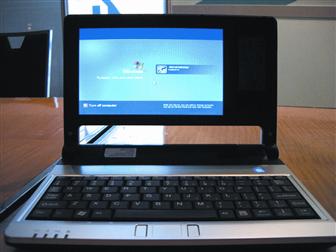 VIA NanoBook UMD
Photo: Monica Chen, Digitimes, June 2007