Samsung Electronics has announced that 21 of its DDR3 solutions have been validated on Intel's reference platform to work with Intel's next generation (Bearlake) chipsets. This is the largest number of DDR3-based solutions to have passed the validation program.
Samsung's Intel-validated solutions include 13 modules and eight monolithic devices in combinations of 512Mb/1Gb densities with speeds of 800 or 1066Mb/s.
Samsung said it has worked very closely with Intel to develop the most advanced and comprehensive set of DDR3 memory solutions as early as possible in preparation for the next generation of Intel chipsets.
Samsung Electronics will exhibit at Microsoft's WinHEC 2007 Conference on May 14-15 a high-performance desktop PC installed with 8GB of memory, consisting of four 1333Mb/s 2GB DDR3 memory modules. This 1333Mb/s 8GB configuration is currently the fastest speed and largest density for a DDR3 chip, making it the optimal memory solution for PCs with advanced gaming features, said Samsung.
DDR3 memory will provide at least twice the bandwidth of today's primary memory- DDR2-with data transfer rates now up to 1.6Gb/s. This will enable much improved 3D graphics, which will directly benefit users of the new Windows Vista operating system.
DDR3 also improves the efficiency of multi-threading operations, which will enhance the performance of multi-core systems. DDR3 not only allows for higher system performance, but it also uses only 1.5V of power compared to the 1.8V of DDR2, thereby extending battery life in notebooks. To further optimize system thermal management, DDR3 modules can utilize a thermal sensor on the DIMM.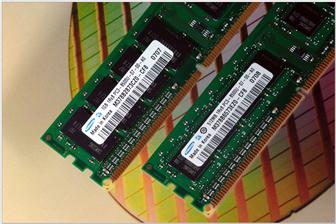 Samsung DDR3 modules
Photo: Business Wire