SiS has announced that its SiS671FX chipset is to be used in the new Fujitsu T671ME-FJ motherboard which recently entered mass production.
In order to match the features of Windows Vista, the SiS671FX chipset is designed to meet all the requirements so that the system will be more secure, reliable, and easy to use, SiS claimed. This is one of the most critical advantages of the SiS671FX chipset, and is why Fujitsu has adopted it for its T671ME-FJ motherboard, according to SiS.
The Fujitsu T671ME-FJ supports Intel Core 2 Duo, Celeron D, and Pentium 4 processors as well as DDR2 667 memory. For graphics, the SiS671FX chipset delivers the integrated Mirage 3 graphics engine in addition to one PCI Express x16 slot to allow for upgrades.
The T671ME-FJ adopts the SiS968 southbridge which adds one PCI Express x1 slot, Serial ATA, and six USB 2.0 ports. Additionally, the T671ME-FJ features 6-Channel Audio and Gigabit Ethernet.
Fujitsu T671ME-FJ motherboard specifications

Item

Detail

CPU

Intel Core 2 Duo, Celeron D, Pentium 4

Memory

DDR2 667

VGA

Mirage 3 graphics engine

One PCI Express x16 slot

Southbridge

SiS968 chipset
Source: SiS, compiled by Digitimes, April 2007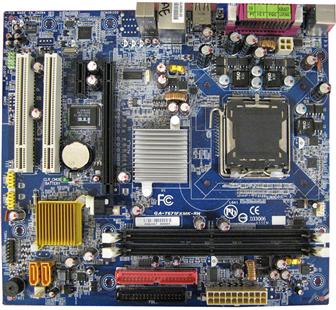 Fujitsu T671ME-FJ
Photo: Fujitsu, SiS