VIA Technologies has announced the VIA VT6047 Pico-ITX form factor reference design, a small full-featured x86 motherboard designed for ultra-compact embedded PC systems and appliances.
The Pico-ITX form factor follows VIA's trend to platform miniaturization. The Mini-ITX form factor, at 17cm×17cm, and which recently celebrated its fifth anniversary as an industry standard, along with Nano-ITX, at 12cm×12cm, 50% of the size of the Mini-ITX were both pioneered by VIA.
The Pico-ITX form factor measures 10cm×7.2cm and is also 50% smaller than its predecessor, Nano-ITX.
The VIA VT6047 Pico-ITX motherboard was designed to be powered by one of VIA's energy efficient processor platforms, such as the VIA C7 or fanless VIA Eden processor in the 21mm×21mm nanoBGA2 package, combined with VIA system media processors to enable the board to deliver performance in small, low-heat, low-power packages
VIA small form factor details

Form factor

Dimensions (cm)

Mini-ITX

17×17

Nano-ITX

12×12

Pico-ITX

10×7.2
Source: VIA, compiled by Digitimes, April 2007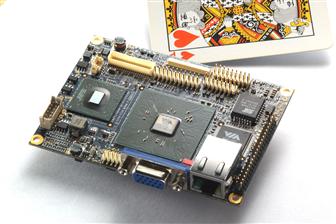 The VIA Pico-ITX form factor measures just 10cm×7.2cm
Photo: Company