D-Link recently announced the immediate availability of its smaller form factor notebook ExpressCard adapters and desktop PCI Express adapters using the latest draft 802.11n wireless network technology.
The D-Link Xtreme N Notebook ExpressCard (DWA-643) is designed for notebooks now being sold by major brands such as Dell, HP, Toshiba, Gateway and others offering users an easy upgrade to the future of wireless technology, according to D-Link. For desktop PCs, D-Link now offers the DWA-556 Xtreme N PCI Express (PCIe) draft 802.11n desktop adapter.
Both adapters are powered with the fast speeds and greater range of connectivity made possible by the latest draft of the wireless networking standard, 802.11n. The smaller slots equipped on the newer-generation notebooks and desktops are designed for all future industry-standard wired and wireless ExpressCards and PCIe adapters.
Designed for use in larger homes and offices or for multiple bandwidth-intensive applications, the DWA-556 desktop adapter features three external antennas to provide higher performance than 802.11g technology while maintaining backward compatibility to 802.11g and 802.11b networks, according to D-Link.
Both adapters are designed to enhance network communications by allowing high-definition media streaming, file sharing, enhanced Internet phone calling (VoIP) and Web surfing. They also support advanced network security encryption (WEP, WPA or WPA2) and come with D-Link's Quick Adapter Setup Wizard software.
Both the DWA-556 and DWA-643 are now available through D-Link's network of retail stores, online outlets and online store at a manufacturer's suggested retail price (MSRP) of US$149.99 and US$119.99, respectively.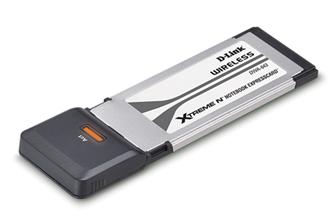 The D-Link Xtreme N Notebook ExpressCard (DWA-643)
Photo: Company