D-Link unveils all-in-one wireless and wired smart switch
Press release, April 17; Eric Mah, DIGITIMES
D-Link recently introduced its DES-1228P Web Smart Switch, a 24-Port, 10/100 smart switch with Power over Ethernet (PoE) and a web-based graphical user interface (GUI). The DES-1228P is a smart switch for businesses looking for a cost-effective solution for network infrastructure with the added benefit of centralized access point (AP) management.
The 4-gigabit DES-1228P, designed for businesses with up to 200 employees, features centralized AP management for easy deployment, configuration, replacement and monitoring of multiple APs through a built-in browser-based management interface. With WEP, WPA and WPA2 security built in, the DES-1228P switch offers configuration templates for easy setup, quick discovery of APs, an AP mapping utility, full-time AP status controls and the ability to maintain all AP traffic history and generate reports with statistical diagrams.
Another popular feature is AP load balancing, which automatically disperses traffic equally among multiple APs.
In addition to the wireless features, the DES-1228P offers the functionality of a smart wired switch, such as virtual local area network (VLAN) segmentation, quality of service (QoS) prioritization and denial of service (DoS) prevention, according to D-Link.
The DES-1228P includes plug-and-play functions like 10/100Mbs auto-negotiation, Universal UTP cable recognition, full/half duplex support, IEEE standards support. The switch boasts 15.4 watts of PoE power per port to support devices such as phones, Internet cameras and access points. The DES-1228P helps reduce additional costs often associated with delivering electrical power to remote or difficult to reach locations.
The switch will support the soon-to-be-released D-Link DWL-3140AP, a smoke detector-sized wireless access point.
The D-Link DES-1228P Web Smart Switch is available now through D-Link's network of value-added resellers, solution providers and distributors for the manufacturer's suggested retail price of US$529.99. The DWL-3140AP and firmware to enable centralized AP management for the DES-1228P will be available by the end of the second quarter of 2007. The wireless upgrade for existing wired-only DES-1228P switch owners will be free.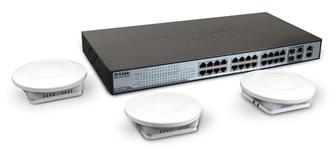 The D-Link DES-1228P Web Smart Switch
Photo: Company