Albatron Technology has announced the latest addition to its Nvidia 8800 series DirectX 10 graphics cards, the 8800GTST. The company says the card represents the first affordable DirectX 10 card available for a large segment of cost conscious consumers waiting for an opportunity to latch on to this revolutionary technology.
The card still boasts the same powerful 500 MHz GPU as its sibling 8800GTS but with modified memory configurations allowing it to have a more palatable price tag, says Albatron. The 8800GTST will contain 320MB of DDR3 memory compared to the 8800GTS which contains 640 MB of DDR3. Aside from the differences in price and memory configurations, the 8800GTST and the 8800GTS are virtually the same card, both in features and dimensions, the company claims.
The 8800GTST supports PureVideo technology, CineFX 4.0, Intellisample 4.0, UltraShadow II and support for HDR (high dynamic range lighting). The card also supports high definition H2.64, MPEG-2, WMV hardware acceleration and high-quality scaling (clear, crisp, clean images at any window size), according to Albatron. Finally, the 8800GTST will support dual-link DVI ports supporting two displays with resolutions up to 2560×1600, the company adds.
Aside from the driver CD and install guide, this card will also come with an HDTV cable (S-video and composite out), S-Video 4-pin Cable, AV cable and DVI adapter.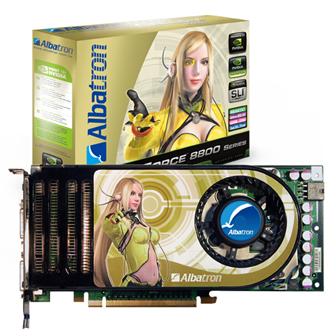 Albatron 8800GTST with 320MB DDR3 memory
Photo: Company