Albatron Technology has unveiled what it claims is the first Mini-ITX motherboard based on AMD's AM2 socket technology. This small board goes all out with all of the latest technologies matching AM2 power with versatility and flexibility, making it a top choice as the most powerful Mini-ITX board on the market, says Albatron.
The AM2 socket supports a full range of AMD CPUs including the Athlon 64 FX, Athlon 64 X2, Athlon 64 and Sempron.
The KI690-AM2 is a Mini-ITX board only 17×17cm and is perfect for small compartments such as for car PCs, Industrial PCs, POS, DIY or for small inconspicuous living room HTPCs (Home Theater PCs), says Albatron.
The KI690-AM2 employs the AMD 690 and SB600 chipsets, boasting a powerful integrated graphics engine which means that you can get great small-board gaming performance. The graphics engine is also perfect for Windows Vista, the first operating system to take advantage of graphics subsystems, says Albatron.
The KI690-AM2 also features multimedia connectivity and audio facilities including Gigabit LAN and a HDMI connector. This board also comes with HDTV composite, DSub and DVI connectors. Additionally, two IEEE 1394 ports and eight USB 2.0 ports are supported. High quality audio featuring 7.1 HD Audio Effects (8 channels) and SPDIF connectors round up the specification.

The KI690-AM2 is stocked with four SATA II connectors with RAID 0, 1 & 0+1 and 3Gb/s disk performance for downloading, uploading and gaming, says Albatron. It also has one IDE connector supporting ATA hard disks and CD drives.
The KI690-AM2 is built around AM2 performance and is a perfect fit for HTPC and Windows Vista, featuring full featured audio and graphics facilities, adds Albatron.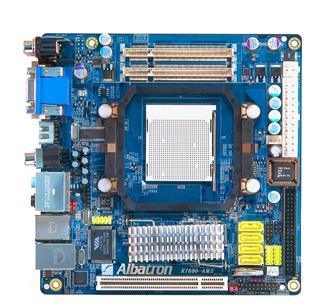 Albatron KI690-AM2 Mini-ITX motherboard
Photo: Company