Thermaltake on July 28 introduced its Muse N0001LN NAS-(Network Attached Storage-) RAID drive storage system.
The storage system has an Intel IOP 80219 processing unit, along with 256MB of DDR SDRAM, expandable to 1GB, plus a 160W built-in power supply, according to the company, which added that the unit supports up to four 3.5" drive bays for SATA hard drives.
The Muse NAS-RAID when connected to through a hub can be used as an enterprise file sharing server or as a storage center for all kinds of multimedia files and data, said Thermaltake.
The Muse NAS-RAID supports RAID 0, 1, 5, and JBOD, said the company, adding that the system supports high-volume traffic, hot-plugging, and an active warning system.
The system will be available worldwide in mid-September with a suggested retail price of US$596, according to the company.
Thermaltake's NAS-RAID N0001LN specifications

Item

Details

Form Factor/ Color

Tower/ Silver

Network support

Microsoft Windows/ Linux/ Unix

Network transport

TCP/IP

Network file protocol

CIFS/ NFS/ HTTP/ FTP

Network interface

Gigabit Intel 82541

Support industry standards

NTP/ DHCP/ IP security/ DNS

Interface

RJ45 LAN 100/1000Mbps

Hardware monitor item

Temperature sensor/ Power management

Processor

Intel IOP 80219 400MHz

SATA controller

Intel SATA controller

Regular system memory

256MB DDR SDRAM

Max. system memory

512MB DDR SDRAM

Flash memory

8MB

Max. HDD Bay / Type

4 x SATA HDDs

Power supply

100~120 / 200 ~ 240 VAC, 50 / 60 Hz, 160W

Remote control

RS232

Dimension

L290 x W 185 x H 240mm

Weight

6.1kg
Source: Company, compiled by DigiTimes.com, July 2006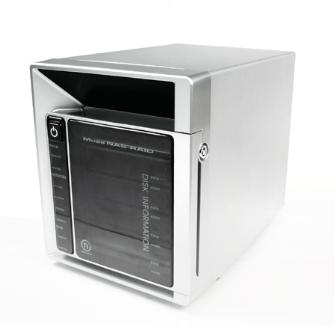 Themaltake's NAS-RAID drive storage system
Photo: Company