Thermaltake recently introduced its Muse X-Duo RAID network storage device.
The Muse X-Duo RAID uses two SATA 3.5-inch hard drives for storage, built-in hardware support for RAID 0, 1 and JBOD and is connected through the Internet with a T4 hub (a variant of Fast Ethernet). The device can be used as an internal file server to share resources throughout an office or home, and with the RAID 1 function there are "no worries about losing valuable data archives", claimed the company. Sharing files over the Internet is also easy while the Muse X-Duo still maintains a high level of security, according to Thermaltake.
The Muse X-Duo has the ability to act as a music server, being able to use programs such as iTunes to access music on the Muse X-Duo. In addition to being a media server, the Muse X-Duo can act as an FTP server and a print server, noted Thermaltake.
On the front of the X-Duo, there is a One Touch Backup button to easily transfer files from a digital camera or a USB flash drive onto the device, which can be done without the computer being on, according to Thermaltake.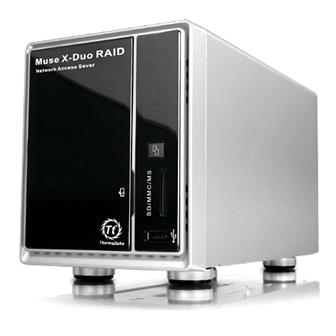 The Thermaltake X-Duo RAID network storage device
Photo: Company