Motherboard maker AOpen will launch its AOpen mini PC on November 1, with volume shipments of the Intel mobile CPU-based desktop system to follow in mid-November, according to market sources.
Resembling the Apple Mac mini, the AOpen mini PC measures only 165×165×51mm and has a volume of 1.1 liters. The system will be built around the Intel 915GM chipset and come in two SKUs, with an entry-level Intel Celeron M 1.4GHz model priced at NT$20,500 (US$609) in Taiwan and a higher-end Intel Pentium M 1.7GHz model priced at NT$26,500 (US$788).
Although AOpen will partner with distributor Synnex Technology International in Taiwan to market complete AOpen min PC systems, the company stated that it will be using its international component channel (under the powered by AOpen logo) to market the products worldwide.
The AOpen mini PC will be bundled with Microsoft Windows XP Home Edition in Taiwan, but the company said it will be partnering with Linspire in the US market to offer a Linux version of the system.
At Computex Taipei this year, Tony Yang, marketing director of AOpen stated that AOpen will target the digital home with the system. The system is also designed for low-noise environments, and so has only one fan and 65W power supply.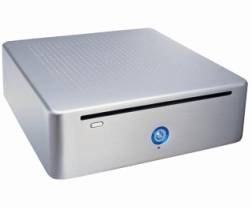 AOpen mini PC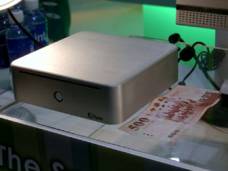 Measures only 165×165×51mm
AOpen: September 2004 - September 2005 revenues (NT$m)

Month

Sales

M/M

Y/Y

YTD

Y/Y

Sep-05

693

(6.6%)

(45.4%)

7,458

(34.7%)

Aug-05

742

23.1%

(39.8%)

6,765

(33.4%)

Jul-05

603

(7.4%)

(44.9%)

6,024

(32.5%)

Jun-05

651

(6%)

(41.3%)

5,421

(30.7%)

May-05

692

(20.4%)

(39.9%)

4,770

(29%)

Apr-05

870

(25.7%)

(39.6%)

4,078

(26.8%)

Mar-05

1,170

17.6%

(17.8%)

3,209

(22.2%)

Feb-05

995

(4.6%)

(27.4%)

2,038

(24.6%)

Jan-05

1,043

4.9%

(21.7%)

1,043

(21.7%)

Dec-04

994

(29.7%)

(25.5%)

15,292

(13.3%)

Nov-04

1,414

(3.3%)

(6%)

14,298

(12.3%)

Oct-04

1,463

15.3%

(9.8%)

12,884

(13%)

Sep-04

1,269

3%

(22.8%)

11,421

(13.4%)
*Figures are not consolidated
Source: TSE, compiled by Digitimes, October 2005
AOpen: 2Q 2004 - 2Q 2005 revenues (NT$m)

Quarter

Sales

Q/Q

Y/Y

YTD

Y/Y

2Q-05

2,210

(31.1%)

(40.4%)

5,419

(30.8%)

1Q-05

3,209

(16.8%)

(22.2%)

3,209

(22.2%)

4Q-04

3,858

7.2%

(14.4%)

15,291

(13.3%)

3Q-04

3,600

(2.9%)

(30%)

11,433

(12.9%)

2Q-04

3,708

(10.1%)

4.9%

7,833

(2%)
*Figures are not consolidated
Source: TSE, compiled by Digitimes, October 2005
AOpen: 2Q 2004 - 2Q 2005 balance sheet (NT$k)

Item

2Q-2005

1Q-2005

4Q-2004

3Q-2004

2Q-2004

Current assets

3,713,110

4,418,009

4,761,573

5,563,594

7,077,858

Long-term investments

1,185,177

1,544,624

1,527,788

1,556,715

1,453,066

Fixed assets (net)

777,478

775,343

743,314

733,946

721,290

Other assets

83,674

84,934

116,517

94,743

110,914

Assets

5,759,439

6,822,910

7,149,192

7,948,998

9,363,128

Current liabilities

3,302,757

3,968,242

4,258,892

4,250,534

5,349,215

Noncurrent interest-bearing liabilities

300,000

0

0

0

Other liabilities

117,787

237,962

230,665

250,981

262,525

Liabilities

3,720,544

4,206,204

4,489,557

4,501,515

5,611,740

Stockholders' equity

2,038,895

2,616,706

2,659,635

3,447,483

3,751,388
*Figures are not consolidated
Source: TSE, compiled by Digitimes, October 2005
AOpen: 2Q 2004 - 2Q 2005 income statement (NT$k)

Item

2Q-2005

1Q-2005

4Q-2004

3Q-2004

2Q-2004

NT$k

% of sales

NT$k

% of sales

NT$k

% of sales

NT$k

% of sales

NT$k

% of sales

Gross sales

2,225,756

3,191,102

3,858,045

3,614,978

3,717,069

Operating revenue

2,210,354

99.3%

3,208,526

100.5%

3,858,031

100%

3,600,101

99.6%

3,708,321

99.8%

Gross profit (loss) from operations

-50,700

-2.3%

194,789

6.1%

-409,748

-10.6%

44,794

1.2%

-413,475

-11.1%

Operating expenses

186,967

8.4%

186,647

5.8%

232,855

6%

270,444

7.5%

285,519

7.7%

Operating income (loss)

-228,127

-10.2%

-25,661

-0.8%

-607,842

-15.8%

-225,650

-6.2%

-643,994

-17.3%

Non-operating revenues and gains

95,255

4.3%

30,731

1%

9,452

0.2%

24,474

0.7%

-2,452

-0.1%

Non-operating expenses and losses

437,421

19.7%

23,786

0.7%

58,996

1.5%

62,832

1.7%

51,096

1.4%

Income from continuing operations before income tax

-570,293

-25.6%

-18,716

-0.6%

-657,386

-17%

-264,008

-7.3%

-697,542

-18.8%

Net income (loss)

-577,221

-25.9%

-27,431

-0.9%

-657,386

-17%

-264,008

-7.3%

-701,215

-18.9%
*Figures are not consolidated
Source: TSE, compiled by Digitimes, October 2005